movie
Yuk Ikut Kuis Game of Thrones Minggu I, Ada Merchandise Keren Buat Kamu
Selasa, 16 Apr 2019 19:16 WIB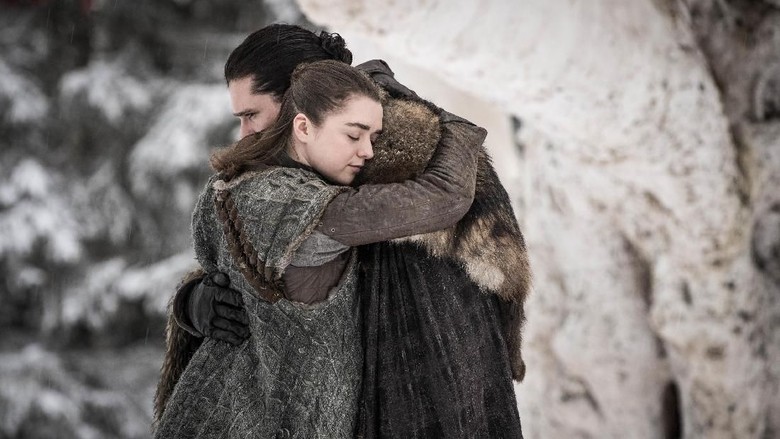 Foto: Helen Sloan - HBO
Jakarta
-
Episode pertama Game of Thrones season 8 sudah tayang dan segera disusul episode-episode selanjutnya. Dan detikcom punya kabar gembira untuk para penggemarnya.
detikcom akan menggelar kuis seminggu sekali selama Game of Thrones seasos 8 diputar di HBO. Setiap minggu, bakal ada dua pemenang yang dipilih lho.
Caranya gampang banget. Kamu tinggal jawab pertanyaan berikut ini. Klik jawaban yang menurut kamu benar ya.
Halo detikers! Kamu sudah nonton Game of Thrones (GoT) season 8 episode 1 kan? Nah, ikut kuis ini yuk!

Setelah mengetahui asal-usulnya, apa yang kira-kira akan dilakukan Jon Snow?

Pilih jawabanmu ya, detikers!

— detikhot (@detikhot) April 16, 2019
Setelah klik salah satu jawaban, tuliskan alasan kenapa kamu memilih jawaban tersebut di kolom komentar artikel ini. Jangan lupa tuliskan akun Twitter kamu di komentar yang kamu tulis ya.
Tidak ada jawaban benar atau salah di sini karena yang dinilai adalah alasan yang kamu tulis. Semakin menarik alasan yang kamu bikin, semakin besar kesempatan untuk menang.
Dua pemenang masing-masing akan mendapatkan merchandise eksklusif dari Game of Thrones. Wah, mau banget kan?
(ken/dal)