tv-news
Pecahkan Rekor, 'Game of Thrones' Borong 32 Nominasi Emmy Awards
Rabu, 17 Jul 2019 10:43 WIB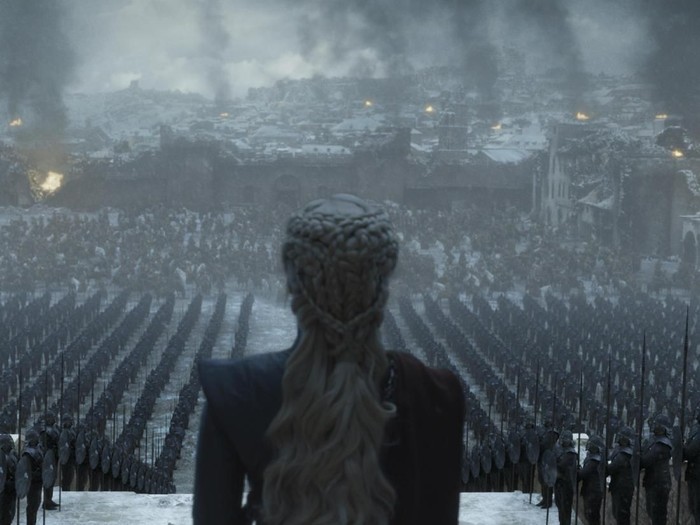 Foto: (dok.HBO)
Jakarta
-
Emmy Awards
baru saja mengumumkan daftar serial-serial TV yang masuk dalam nominasi. Seperti yang sudah diprediksi, 'Game of Thrones' memborong 32 nominasi yang ada.
Dengan ini,
'Game of Thrones'
pun sukses memecahkan rekor serial TV yang mendapatkan nominasi Emmy Awards terbanyak selama satu tahun. Tak hanya memborong nominasi drama, para aktor dan aktrisnya pun diganjar dengan nominasi individual.
'Game of Thrones' dinominasikan dalam Outstanding Drama Series, Outstanding Lead Actress dan Actor, Outstanding Supporting Actress dan Actor, hingga Outstanding Guest Actress in a Drama Series.
Tonton juga: Game of Thrones Pecahkan Rekor, Ini Daftar Lengkap Nominasi

Emmy

2019

Dan untuk pertama kalinya, empat aktris di serial TV yang sama berada dalam satu kategori nominasi yang sama. Gwendoline CHristie, Lena Headey, Sophie Turner, dan Maisie Williams berkompetisi dalam kategori Outstanding Supporting Actress in a Drama Series bersama Julia Garner ('Ozark') dan Fiona Shaw 'Killing Eve'.
Sebelumnya, 'Game of Thrones' sudah berhasil memenangkan 47 piala Emmy dan dinominasikan 161 kali, termasuk tahun ini. Dan sepanjang sejarah, serial TV HBO tersebut adalah yang paling banyak memenangkan piala Emmy.
(dal/doc)