tv-news
Reaksi Kit Harington dan Emilia Clarke saat Tahu Ending 'Game of Thrones'
Senin, 20 Mei 2019 10:47 WIB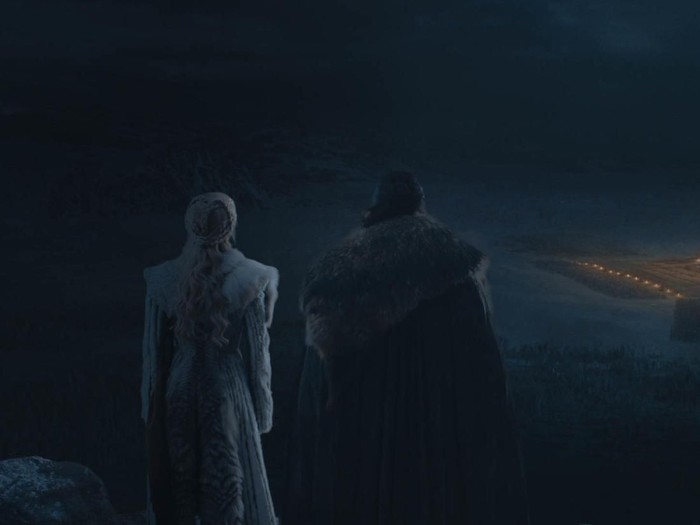 Foto: Dok. HBO
Jakarta
-
(Warning! Major Spoiler. Berhenti di sini kalau kamu belum menonton 'Game of Thrones' musim kedelapan episode 6.)
'Game of Thrones'
berakhir dengan sebuah kejutan yang tak terduga. Hal tersebut memunculkan banyak pro dan kontra dari para fans.
Para aktor, khususnya
Kit Harington
dan Emilia Clarke, pun dibuat kaget dengan akhir dari 'Game of Thrones'. Apalagi, Daenerys harus mati di tangan Jon Snow.
Beberapa hari sebelum reading episode terakhir, Emilia dan Kit duduk bersebelahan di pesawat menuju Belfast. Harington kala itu menegaskan sama sekali belum mengetahui akhir dari 'Game of Thrones', sementara Clarke sudah terlebih dahulu membacanya.
"Saat itu benar-benar menjelaskan persahabatanku dengan Kit. Saat itu aku bilang, 'Yang benar saja? Kau belum baca?'" kenang Emilia saat diwawancara oleh People belum lama ini.
Kemudian saat reading pun tiba, dan Emilia sengaja memilih tempat duduk bersebelahan dengan Kit Harington. Ia ingin melihat ekspresi sang aktor saat melihat pada akhirnya Jon Snow-lah yang membunuh Daenerys.
Video: Cacimaki untuk #TheFinalEpisode Game of Thrones
"Aku melihat ke arah Emilia, dan ada saat di mana aku menyadari, 'Tidak... tidak'," ujar Kit.
Emilia kemudian mengangguk dengan wajah sedih. "Ya," ucap Emilia pendek.
"Dia menangis," ujar Emilia soal Kit Harington. "Dan rasanya memang lebih baik dia tak membaca sebelumnya," pungkasnya.
(dal/nkn)