tv-news
'Game of Thrones' Masuk, Ini Ramalan 'The Simpson' Paling Heboh
Kamis, 16 Mei 2019 20:15 WIB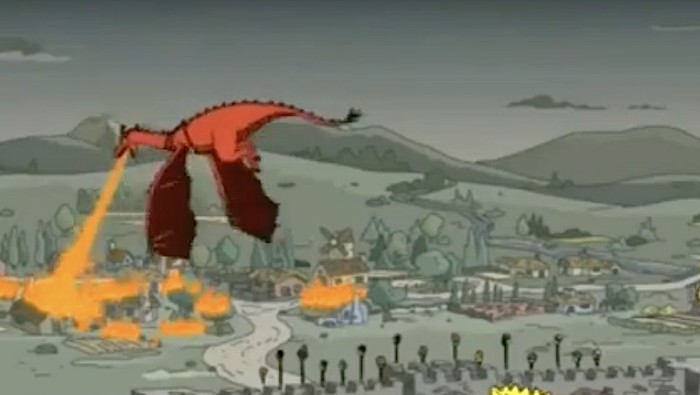 Foto: The Simpsons (Twitter)
Jakarta
- Banyak hal dari '
The Simpsons
' yang bisa memprediksi masa depan. Serial itu bahkan mengulanginya lagi ketika memprediksi twist '
Game of Thrones
'.
Tak sedikit hal yang terjadi di dunia sudah dialami di dunia yang berbeda. Prediksi itu juga yang menjadikan alam semesta dari 'The Simpsons' menjadi ikonik.
Contoh terbaru adalah fenomena saat pertunjukan yang menggambarkan seekor naga membakar seluruh kota di episode 'The Serfsons'. Itu mirip sekali dengan kejadian di musim 8 episode 5 The Bells 'Game of Thrones'.
'The Simpsons' sendiri telah berjalan selama 30 musim dengan lebih dari 600 episode. Berikut beberapa kali ramalan masa depan mereka kejadian.
1. Donald Trump Menjadi Presiden
Kapan itu terjadi dalam kehidupan nyata? 8 November 2016. Dalam episode 'Bart to the Future', kita mendapatkan sekilas tentang masa depan di mana Lisa adalah Presiden Amerika Serikat.
2. Disney Beli Fox
Kapan itu terjadi dalam kehidupan nyata? 14 Desember 2017. Dalam 'When You Dish Upon a Star', ada lelucon di episode yang menampilkan logo 20th Century Fox dengan kata-kata 'A Division of Walt Disney Co.'
20 tahun kemudian, dan raksasa Disney telah membeli Fox, yang kebetulan adalah perusahaan yang memproduksi 'The Simpsons'. Sebuah cerita biasa yang bisa memprediksi budaya pop.
3. Prediksi Peristiwa 11 September di New York
'The Simpsons' telah memprediksi kejadian itu dalam episode 'New York City Against Homer'. Di sana terlihat tulisan 'New York', 'Sembilan, serta gedung kembar yang juga dianalogikan sebagai angka 11.
Sebuah peringatan akan adanya kejadian di New York. Dan hal itu benar terjadi.
4. Munculnya Permainan Farmville
Terdapat salah satu adegan yang menunjukkan permainan di serial tahun 1998 berjudul 'Bart Carny'. Permainan itu adalah simulasi mengurus taman.
Farmville digandrungi anak muda di Facebook maupun ponsel. Simulasi mengurus lapang tani dan peternakan itu ternyata sudah diprediksi sejak lama.
5. Pemain Sirkus Diterkam Harimau
'The Simpson' memprediksi hal ini sejak 1993. Gunther dan Ernst sedang melakukan pertunjukan sirkus. Tapi saat pentas, mereka malah diterkam harimaunya.
Di dunia nyata hal itu terjadi, ketika dua saudara pemain sirkus, Siegfried dan Roy diterkam oleh hewan pentasnya. Seekor harimau putih pada 2003.
(nu2/pus)