tv-news
Kegilaan 'Game of Thrones' Episode 5 Sudah Diprediksi The Simpsons
Kamis, 16 Mei 2019 10:30 WIB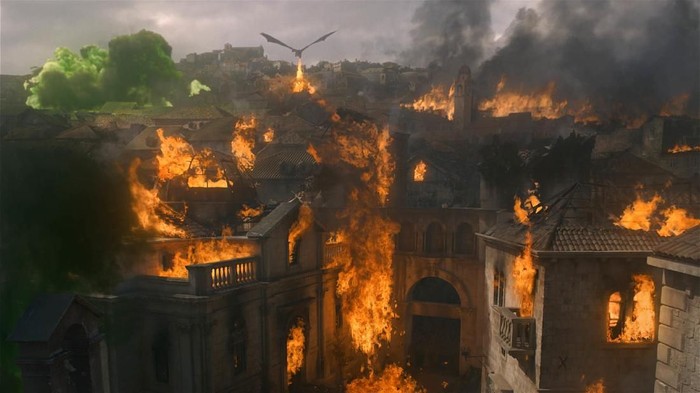 Foto: Dok. Helen Sloan/HBO
Jakarta
-
Episode 5 'Game of Thrones' kemarin menampilkan aksi pembantaian yang bikin geleng-geleng kepala. Daenerys Targaryen membakar semua King's Landing.

Ia sekaligus membunuh ribuan orang dan memunculkan keraguan masih ada King's Landing yang tersisa.
Foto: The Simpsons (Twitter)


Momen ini nyatanya sudah diramal akan kejadian oleh cerita The Simpson. Salah satu seri The Simpson 2017 berjudul 'Serfons', keluarga ini tampak menyaksikan sebuah peristiwa dari atas bukit, memperhatikan seekor naga membakar sebuah kota.


Video: Fans Bikin Petisi dan Minta ''Game of Thrones 8'' Dibuat Ulang


"Lihat, naga itu membakar desa kita," ujar Bart.

"Aku amat mencintai desa ini," imbuh Homer.

Homer dan keluarganya tampak berada di momen masa lampau di sebuah kerajaan di episode The Simpsons saat itu.

Ini bukan kali pertama episode The Simpsons membawa kisah fantasinya ke kehidupan nyata. Di salah satu episode lain, serial ini memprediksi Donald Trump akan menjadi presiden sementara di episode lainnya The Simpsons menyatakan bahwa Disney akan membeli Fox. Hal-hal yang tampaknya aneh ini akhirnya terjadi.

Terungkapnya momen ini menjadi kejutan bagi penggemar Game of Thrones. Yang jadi pertanyaan, apakah The Simpsons juga sudah mengungkap episode final 'Game of Thrones'?
(doc/dal)