movie
Penggemar Beri Ucapan Ulang Tahun Mendiang Carrie Fisher
Selasa, 22 Okt 2019 15:23 WIB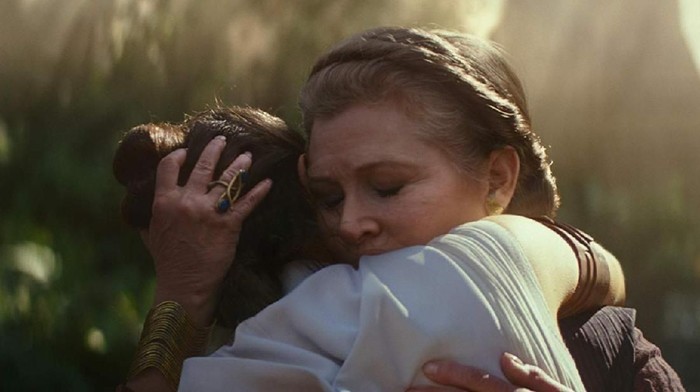 Foto: Star Wars The Rise of Skywalker (imdb)
Jakarta
-
Sosok mendiang Carrie Fisher tak terlepaskan dari semesta Star Wars. Di momen ulang tahunnya yang dijadikan waktu dirilisnya trailer final 'The Rise of Skywalker', penggemar turut merayakan hari kelahiran Fisher.

Para fans mengingat kembali Leia Organa yang semestinya tahun ini merayakan usianya yang ke-63. Carrie Fisher diketahui mengalami serangan jantung dan sempat menjalani perawatan sebelum akhirnya meninggal pada 27 Desember 2016.

Berbagai ucapan selamat dilontarkan penggemar di lini massa Twitter. Tak sedikit yang menyematkan kata-kata ikonik yang Carrie Fisher pernah ucapkan sebagai Princess Leia.

"Mencuri dilakukan oleh mereka yang berpenyakit hati. Memberi dukungan dilakukan oleh mereka yang penuh harapan. Sebanyak apapun kita merasa menderita, kita harus selalu memiliki harapan. Selamat ulang tahun untuk Princess dan jenderal kami, Carrie FIsher," tulis seorang fans berakun @stevedu**.


"Selamat ulang tahun #CarrieFisher, aku menangis saat mengetahui kau meninggal dunia. Kau adalah kenangan terbesarku di masa kecil," ujar netter berakun @pooples****.

Keberadaan Carrie Fisher di Star Wars terbaru diberi ruang penghormatan. Dirinya masih menjadi bagian dalam film meski telah beberapa tahun lalu ia tiada.
Simak Video "

'Star Wars: The Rise of Skywalker', Kok Kayak Sinetron?

"
[Gambas:Video 20detik]
(doc/wes)