tv-news
Akhir 'GoT' Disebut Terpengaruh 'Avengers: Endgame'
Senin, 20 Mei 2019 14:17 WIB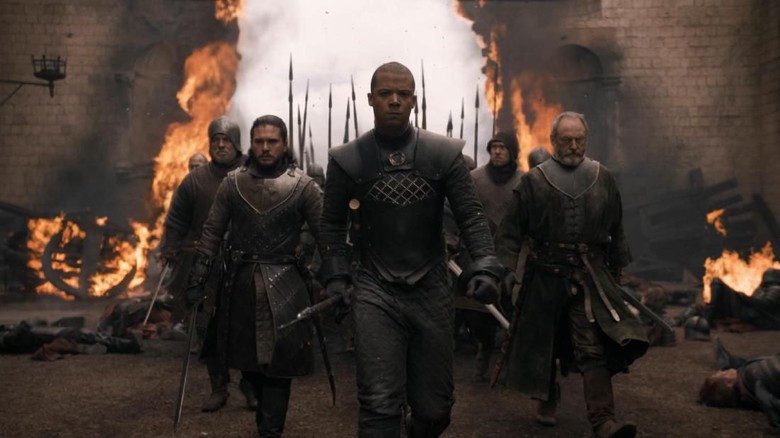 Foto: Dok. Helen Sloan/HBO
Jakarta
-
Akhir 'Game of Thrones' musim 8 menuai banyak pendapat dari penggemar. Kini ada teori yang muncul akhir cerita serial tersebut berkaitan erat dengan akhir dari 'Avengers: Endgame'.

(Warning! Major Spoiler. Berhenti di sini kalau kamu belum menonton 'Game of Thrones' musim kedelapan episode 6)

Hal itu diungkapkan kreator Deadpool, Rob Liefeld. Liefeld mengatakan, hal ini telah diyakininya sejak beberapa minggu terakhir.


"Saya punya teori yang saya yakini selama 7 minggu terakhir, dan itu adalah #Avengers: Endgame yang hampir sempurna menempel pada akhir kisah ini sehubungan dengan final mereka menghadirkan masalah besar untuk musim terakhir #GOT," kicau sang kreator lewat Twitter.

Sayang, Liefeld enggan membahas lebih jauh perihal pengaruh seperti apa yang ada pada akhir 'Game of Thrones' dari ujung cerita 'Endgame'.

Akhir serial ini membawa tragedi pada Jon Snow. Ia pada akhirnya membunuh Daenerys Targaryen dengan tangannya sendiri setelah beberapa kali tampak ragu.

Takhta Iron Throne pun jatuh pada sosok yang tak diduga sebelumnya.

Di antara ramai petisi dari fans yang meminta musim 8 'Game of Thrones' dibuat ulang, Liefeld mengungkapkan kekagumannya pada serial ini.

Ia menyampaikan pujiannya dengan menyebut 'Game of Thrones' sebagai serial yang belum paernah ada sebelumnya.

"Aku merasa kewalahan seperti kalian semua. Saya tidak pernah bisa membayangkan akan ada serial yang rumit sekaligus cemerlang di televisi, "tulis Liefeld sebagian. "Kami bersorak dan bertepuk tangan pada saat penutupan. Aku Mencintai Game Of Thrones. Saya menyukai semuanya," tukas Liefeld.


Tonton juga: Fans "Game of Thrones" Minta Ada Spinoff untuk Arya Stark

(doc/nu2)