tv-news
Adegan Incest Mengerikan di 'Game of Thrones'
Selasa, 30 Apr 2019 14:05 WIB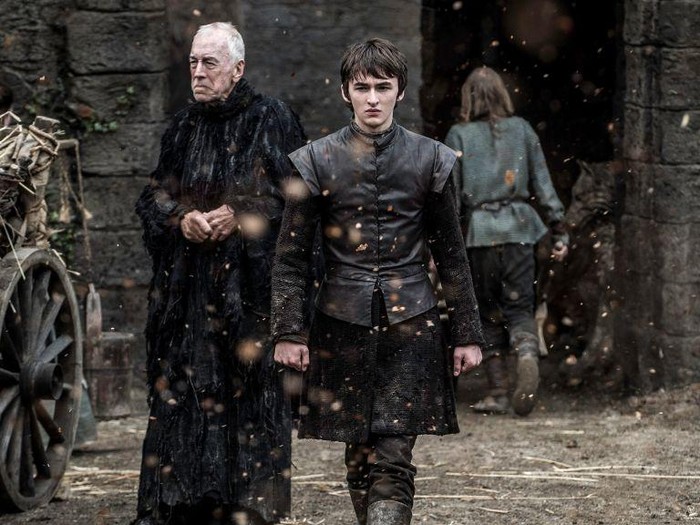 Foto: HBO
Jakarta
-
Semua penggemar bertanya bagaimana perasaan Jaime Lannister ketika pertama kali berjumpa lagi dengan Bran Stark, sosok anak yang memergoki hubungan gelapnya dengan Cersei Lannister.

Bran kecil melihat adegan janggal itu ketika ia melakukan hobinya naik ke atas benteng. Kepergok, Bran pun didorong hingga terjatuh. Semua klan itu lantas berusaha membunuh Bran yang mengalami kelumpuhan.

Hubungan Jaime dan Cersei Lannister memang menjadi awal adegan incest yang ada di serial 'Game of Thrones'. Selain itu, yang terbaru ada asmara antara Jon Snow dan Daenerys Targaryen, meski awalnya mereka tak sadar punya hubungan satu darah dari klan Targaryen.

Berikut beberapa adegan incest dalam serial yang kini memasuki musim terakhir:


1. Jon Snow dan Daenerys (Musim 7, Episode 7)
Sulit untuk menyalahkan Jon dan Dany karena keduanya tak tahu punya hubungan sedarah. Penggemar dibuat terkejut ketika Bran yang punya kekuatan melihat masa lalu mengungkap ternyata Jon Snow adalah Aegon Targaryen.
Hubungan itu terjadi di musim ketujuh episode tujuh. Tak lama setelah keduanya punya ikatan asmara, Jon lalu mengetahui masa lalunya itu. Lantas bagaimana hubungan mereka nanti?
2. Jaime dan Cersei (Musim 1, Episode 1)
Ini merupakan adegan incest yang memulai semuanya. Jaime dan Cersei melakukan hubungan satu darah hingga kepergok oleh Bran Stark.
Jaime mendorong putra bungsu Eddard Stark itu hingga ia menjalani sisa hidupnya di atas kursi roda. Adegan incest ini dilakukan penuh dengan kesadaran, Jaime dan Cersei jelas memiliki chemistry seksual.

3. Jaime Paksa Cersei Berhubungan di Sebelah Jenazah Joffrey (Musim 4, Episode 3)

Jaime menarik saudara perempuannya secara paksa di sebelah jenazah anak mereka, Joffrey. Sang raja baru saja dibunuh namun Jaime seperti tidak peduli dengan kabar duka tersebut.

4. Anak Sekaligus Istri Craster (Musim 4, Episode 4)

Yang paling seram, menyedihkan dan tak manusiawi yang terjadi di 'Game of Thrones' tentunya soal keluarga Craster. Pria itu memiliki istri yang juga merupakan anaknya sendiri.

Craster merupakan ayah yang mengerikan. Di kerajaannya yang kumuh, tak ada sosok pria selain dirinya. Sebab ketika ia memiliki anak pria, sang anak itu akan dipersembahkan untuk Night King, sementara jika anaknya perempuan bakal ia nikahi.
(nu2/doc)