tv-news
Jokowi Bicara Perebutan Kekuasaan Seperti di Serial 'Game of Thrones'
Jumat, 12 Okt 2018 11:20 WIB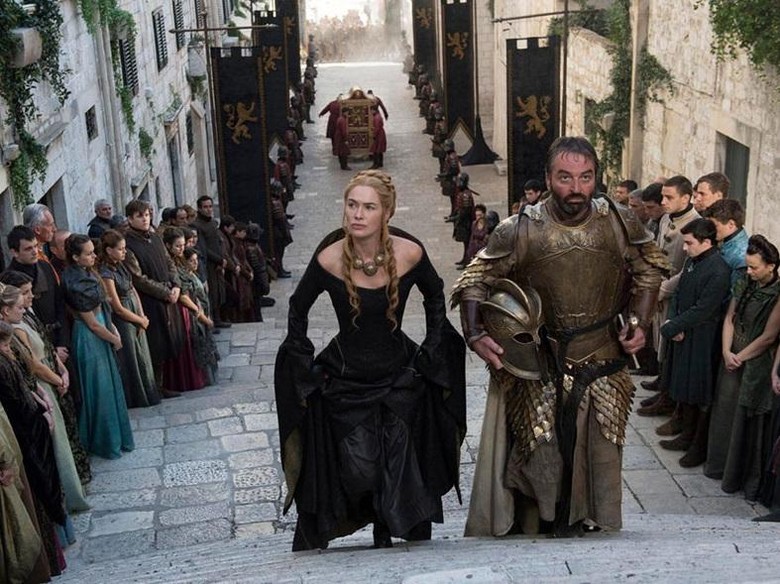 Foto: (HBO)
Jakarta
-
Serial 'Game of Thrones' menjadi inspirasi Presiden Jokowi tatkala dirinya berbicara saat memberi sambutan di acara Plenary Meeting International Monetary Fund (IMF) - World Bank di Nusa Dua, Bali. Serial ini mengikuti kisah perebutan kekuasaan yang terjadi di antara great houses dan great family dalam beberapa episodenya.

Kedua wilayah itu diibaratkan Jokowi mirip dengan kondisi sosial dan ekonomi global yang saat ini sedang terjadi. Kata Jokowi, beberapa negara seperti berusaha memperebutkan kembali The Iron Throne.

"Perang dagang bikin banyak negara terguncang. Negara yang sedang tumbuh alami tekanan besar. Dengan banyaknya masalah yang terjadi, cukup bagi kita untuk katakan winter is coming," ujar Jokowi, Jumat (12/10/2018).
'Game of Thrones' sendiri kental dengan kisah-kisah pertarungan maupun perebutan kekuasaan di antara 9 klan besar yang menjadi poros cerita serial pemenang Emmy Awards ini.
Sejumlah Great Houses, Great Families, bertarung antara satu sama lain untuk mengambil alih kendali The Iron Throne. Seperti roda, ketika Great Houses berjaya, Great Houses lainnya mengalami kesulitan.
"Namun, mereka lupa tatkala para great houses sibuk bertarung, mereka tidak sadar ada ancaman besar dari Utara, yaitu orang Evil Winter yang ingin rusak dunia. Kacaukan dunia dengan es dan kehancuran," kata Jokowi.
'Game of Thrones' akan tayang lagi menampilkan musim terakhirnya tahun depan.
Saksikan juga video 'Jokowi Sebut Ekonomi Negara Maju Layaknya Serial Game of Thrones':

(doc/dal)