music
Dwiki Dharmawan Sebarkan Musik Perdamaian Hingga ke Roma
Selasa, 18 Jul 2017 10:59 WIB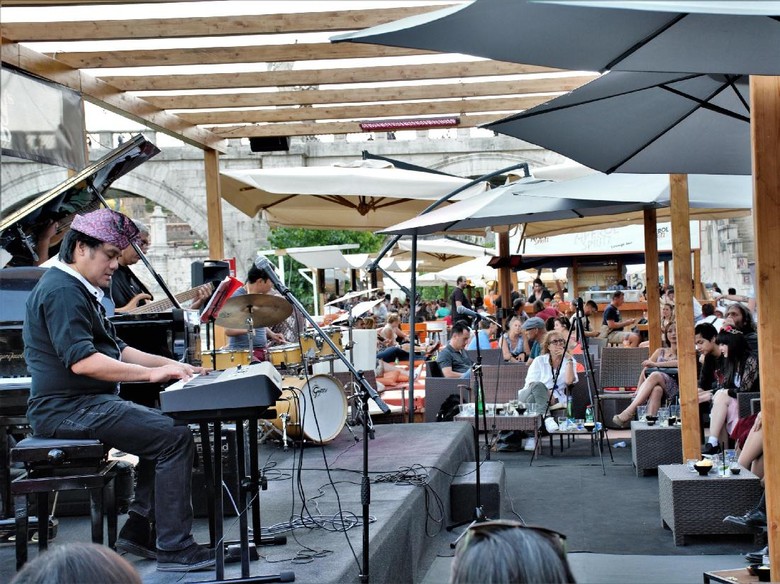 Dwiki Dharmawan Foto: dok. KBRI Roma
Jakarta
- Satu lagu musisi Tanah Air yang membawa nama Indonesia di kancah internasional. Kali ini ada Dwiki Dharmawan yang menyebarkan musik perdamaian hingga ke Roma, Italia.
Tidak sendirian, di acara yang berlangsung pada 16 Juli kemarin, Dwiki Dharmawan juga menggandeng musisi lainnya dari berbagai negara. Dari keterangan pers yang diterima detikHOT, Selasa (18/7/2017), ada juga gitaris Kamal Musallam dari Jordania, drummer Israel Varela dari Meksiko dan bassis Alfredo Paixao dari Brasil.
Konser musik yang bertajuk 'Jazz by the river: SOUNDS OF PEACE FROM INDONESIA' itu digelar di sebuah klub jazz ternama di Roma. Konsep open space membuat masyarakat yang lalu lalang bisa dengan mudah menikmati suguhan dari para musisi.
Konser yang diselenggarakan KBRI Roma dan didukung oleh Kementerian Pendidikan dan Kebudayaan RI itu dilaksanakan sebagai upaya mempromosikan musik Indonesia sekaligus menjadi wahana dialog kebudayaan antarbangsa.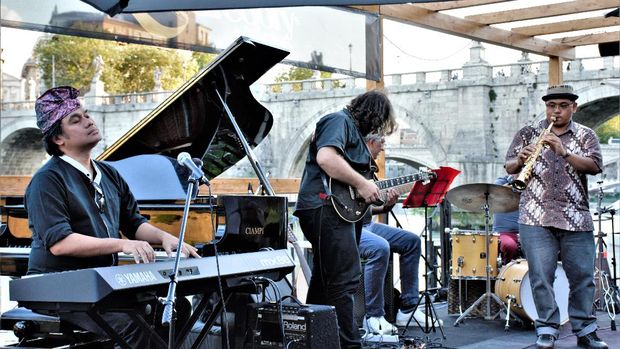 Dwiki Dharmawan Foto: dok. KBRI Roma
Duta Besar RI di Roma, Esti Andayani, turut hadir pada kesempatan tersebut. "Musik merupakan bahasa universal yang dapat dipahami siapapun tanpa memandang latar belakangnya. Untuk itu, kami menghadirkan musik jazz yang kaya akan interpretasi sebagai wahana kolaborasi antarbangsa dalam menyuarakan perdamaian dan persahabatan", ucapnya.
Dwiki Dharmawan pun mengungkapkan kepuasannya atas pertunjukan malam itu. "Sambutan positif baik dari pengunjung maupun para rekan musisi menjadikan penampilan ini sebagai penutup yang manis bagi rangkaian tur Eropa saya kali ini", ujar Dwiki.
Roma merupakan kota persinggahan terakhir Dwiki Dharmawan. Sebelumnya, ia tampil di London, Wina, Zagreb, Munich dan Sofia dalam rangkaian tur musim panas 2017 yang dilaksanakan sejak tanggal 4 Juli 2017.
(dar/tia)