movie
Penampilan Perdana Daniel Craig di 'Bond 25'
Rabu, 26 Jun 2019 17:01 WIB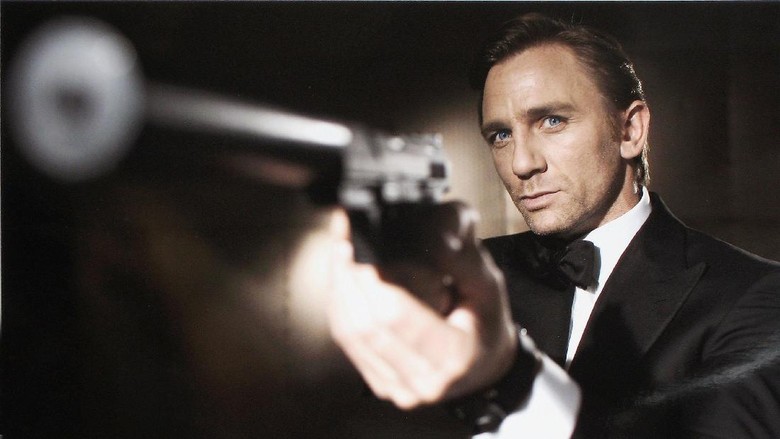 Foto: Greg Williams/Eon Productions via Getty Images
Jakarta
- Berbagai masalah muncul selama syuting
James Bond
beberapa waktu ini. Di balik kesialan itu, kini muncul berita positif.
Sebuah potret perdana sosok Daniel Craig ketika menjadi agen 007 beredar. Film yang akan berjudul 'Bond 25' itu menampilkan sosok Daniel Craig yang lebih matang.
Rekaman beberapa detik yang dirilis oleh The Hollywood Reporter itu menampilkan berbagai adegan film. Tak cuma itu, ada juga beberapa momen di balik layar pembuatannya.
"Di set # Bond25: Jamaika. Lihat sutradara Cary Fukunaga, Daniel Craig (James Bond # 007), @jfreewright (Felix Leiter) dan @LashanaLynch (Nomi) di belakang layar, melihat syuting film di Karibia baru-baru ini," tulis akun Twitter 007.
Video perdana itu merupakan berita positif yang sangat dibutuhkan untuk menambah semangat dalam produksi. Sebab, sejauh ini banyak kabar miring yang menyelimuti penggarapan film itu.
Pekan lalu, muncul kabar seorang pria berusia 49 tahun didakwa dengan tuduhan menyembunyikan kamera di kamar mandi wanita di lokasi syuting di Pinewood Studios.
Sebelum itu, Daniel Craig juga terpaksa menjalani operasi pergelangan kaki minor akibat cedera yang diderita saat syuting pada Mei. Kemudian pada awal Juni, sebuah ledakan terjadi di lokasi syuting, mengakibatkan kerusakan pada bagian luar set 007. Beruntung korban hanya mengalami cedera ringan dalam kecelakaan itu.
'Bond 25' jadwalnya akan dirilis pada 8 April 2020. Ini merupakan penampilan terakhir Daniel Craig sebagai agen asal Inggris itu.
Simak Video "

Aksi Menegangkan James Bond dalam Trailer 'No Time To Die'

"
[Gambas:Video 20detik]
(nu2/ass)