movie
Video Perdana Vin Diesel Syuting 'Fast and Furious 9'
Rabu, 26 Jun 2019 15:39 WIB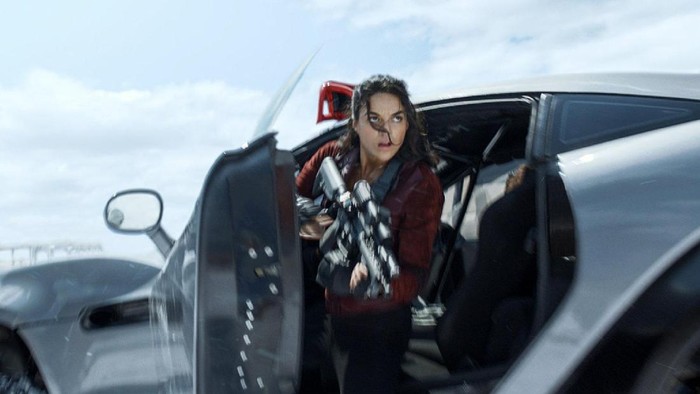 Foto: Michelle Rodriguez di Fast and Furious 8 (imdb.)
Jakarta
- '
Fast & Furious
' butuh beberapa tahun untuk kembali menampilkan waralaba kesembilannya. Kini, film itu sudah siap menjalani syuting.
Ada sosok Justin Lin yang kembali ke kursi sutradara. Ia sebelumnya memimpin 'Tokyo Drift', 'Fast & Furious', 'Fast Five', dan 'Fast & Furious 6'.
Film-film itu juga yang berhasil membawa waralaba itu ke jalur fenomenal. Terakhir Lin, bekerja untuk 'Star Trek Beyond' dan dua episode pertama 'True Detective Season 2'.
Sedangkan, 'Furious 7' digarap James Wan dan 'Fate of the Furious' dipimpin oleh F. Gary Gray. Dua film itu juga berhasil meraih lebih dari US$ 1 miliar di box office global.
Sementara, selain 'Fast & Furious 9', ada juga spin-off 'Hobbs and Shaw', yang sudah lebih dulu digarap. Spin-off tersebut akan mengisahkan sosok Dwayne Johnson dan Jason Statham, yang punya hubungan membaik usai 'Fate of the Furious'.
Skenario film kesembilan kali ini ditulis oleh Daniel Casey. Tak ada informasi lebih banyak mengenai plot film tersebut. Namun ada rumor menyebut waralaba ini akan berakhir dengan 'Fast & Furious 10', sehingga kita sepertinya tengah berada di endgame.
Dalam film kesembilan itu juga sepertinya tak akan ada sosok Dwayne Johnso. Sebaliknya, Vin Diesel meminta John Cena untuk tampil dengan peran yang belum bisa diketahui.
Para pemeran lama yang kemungkinan kembali tampil ada Ludacris, Tyrese Gibson, dan Nathalie Emmanuel. Vin Diesel dan Michelle Rodriguez tentu bakal kembali seperti dalam sebuah video yang diunggah di Instagram.
Keduanya bicara tentang hari pertama syuting film itu. Thailand jadi salah satu tempat syuting film itu dalam lebih dari dua minggu. Sementara 'Fast & Furious 9' dijadwalkan tayang pada 22 Mei 2020.
(nu2/ass)