movie
'Ant-Man and The Wasp' Disebut Jembatan Menuju 'Avengers 4'
Senin, 16 Jul 2018 11:21 WIB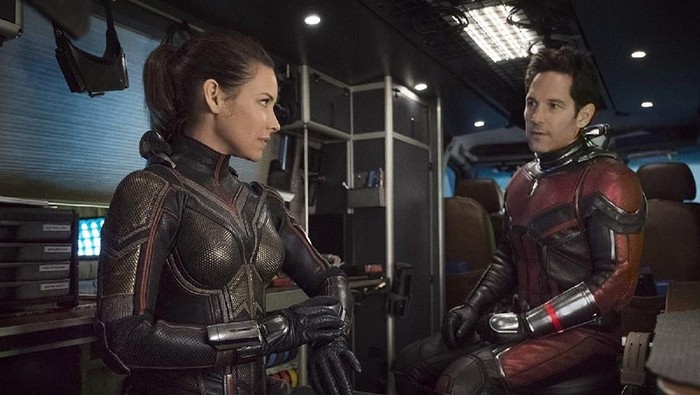 Foto: imdb.
Jakarta
-
'Ant-Man and The Wasp' dianggap sebagai humor yang mengalihkan momen berat yang terjadi di 'Infinity War'. Akan tetapi, film ini juga diyakini sebagai penghubung pada 'Avengers 4'.

Salah satu adegan yang memperlihatkan hilangnya Hope van Dyne (Evangeline Lilly), Hank Pym (Michael Douglas), dan Janet van Dyne (Michelle Pfeiffer) karena Thanos, membuat Scott Lang (Paul Rudd) terjebak selamanya dalam Quantum Realm.

Momen ini dapat membawa dampak yang besar pada sekuel 'Avengers 4' mendatang. Janet yang terjebak cukup lama dalam Quantum Realm memperingatkan Lang sebelumnya untuk tak terjebak dalam Time Vortex. Time Vortex yang kini diyakini bakal menjadi penghubung kisah 'Avengers 4' mendatang.
Sekuel itu disebut melibatkan elemen perjalanan waktu dalam ceritanya. Sebelumnya ada adegan yang bocor di dunia maya memperlihatkan Iron Man bertemu dengan Loki yang dalam 'Infinity War' telah mati.
Adegan itu yang diyakini menjadi salah satu cara bagi Avengers untuk menghalangi Thanos menghapus separuh alam semesta.
Di sisi lain, jika Ant-Man saat ini benar terapung di Alam Quantum - mengakses periode waktu yang berbeda menggunakan Time Vortex. Ia mungkin akan memainkan peran sentral dalam peristiwa film yang akan datang.
(doc/doc)