Wawancara Eksklusif
Hulk Melawan Thanos Hanya 3 Menit
Selasa, 24 Apr 2018 19:16 WIB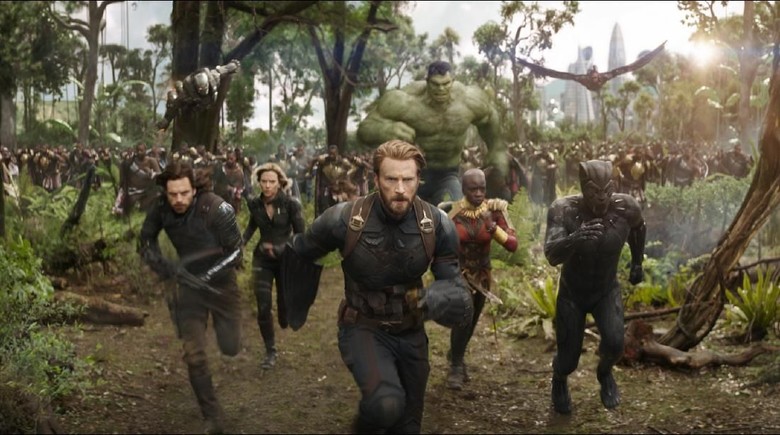 Hulk Melawan Thanos Hanya 3 Menit Foto: Marvel Studios
Atlanta
- Puluhan superhero yang bergabung dalam tim 'Avengers' bersatu padu untuk melawan villain terkuat sepanjang sejarah Thanos. Setiap karakter berusaha untuk bertempur dengan Thanos, termasuk Hulk, Star-Lord dari Guardian of the Galaxy hingga Black Panther.
Kepada detikHOT, secara blak-blakan Mark Ruffalo mengatakan punya waktu bertempur dengan Thanos hanya 3 menit.
"Ya, saya cuma punya waktu 3 menit untuk melawan dia," ujarnya sembari tertawa kepada awak media di Pinewood Atlanta Studios, negara Georgia, AS belum lama ini.
Usai menjawabnya, Mark Ruffalo langsung menanyakan pertanyaan yang sama kepada Chris Pratt. "Bagaimana dengan kamu, Chris?"
"Saat syuting, saya melihat panel hijau raksasa di sana dan saya pikir, oh kami sedang bertarung ya. Tim produksi memutuskan mana karakter yang menjadi CG dan siapa yang akan menjadi karakter nyata," kata Pratt.
Selama syuting pun Pratt merasa tak banyak beradu pandang dengan Thanos. "Kami seperti momen organik."
"Dan dari sepemahaman saya, saya telah melawan dengan dia. Saya ingin berhati-hati dengan alur cerita yang bersinggungan dengan Anda karena tidak ingin memberikan spoiler atau apapun. Seperti yang Anda lihat di trailer, ya begitulah kami mencoba melawan Thanos," tambahnya lagi.
Chadwick Boseman pun merasa hanya mendengar suara Thanos di kejauhan. Ketika syuting, ia hanya melakukan adegan sesuai arahan Russo Brothers.
"Ia (Russo Brothers) hanya berkata jika kamu mendengar suara Thanos, maka menengoklah ke bawah. Dan ya saya melakukan sesuai perintah Russo," pungkas Boseman.
Penasaran dengan akting ketiganya dalam 'Avengers: Infinity War'? Bagian ketiga Avengers akan tayang di bioskop Indonesia pada 25 Maret 2018.
(tia/nu2)