tv-news
Terjawab ke Mana Drogon dan Mayat Daenerys Setelah Akhir 'GoT'
Jumat, 29 Nov 2019 11:02 WIB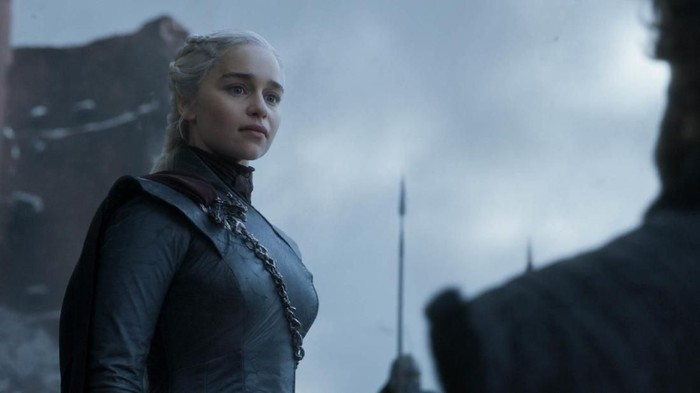 Foto: Dok. HBO
Jakarta
-
Artikel ini mengandung spoiler musim akhir 'Game of Thrones 8'. Berhenti di sini jika merasa terganggu.

Musim terakhir 'Game of Thrones' masih menyisakan beberapa pertanyaan. Kini salah satu yang terjawab yakni perihal jenazah Daenerys dan ke mana naga kesayangannya pergi.

Dilansir dari Comicbook, jawaban dari pertanyaan nasib Drogon dan jenazah Daenerys adalah Drogon membawanya ke sebuah tempat bernama Volantis.
Baca juga: 'Game of Thrones' Season 8 Eps 6: Sampai Jumpa, Westeros


Volantis merupakan sebuah kota di kawasan Narrow Sea sebelah timur dari Westeros. Kota tersebut merupakan kota asal keberadaan dinasti Valyrian di mana para naga lahir dan dilatih termasuk Dinasti Targaryen berasal dari sana.
"Ini adalah akhir puitis dari kisah Daenerys, karena di momen terakhirnya dia tidak akan pernah benar-benar menemukan kedamaian atau rumah di Westeros. Ini sedikit penghiburan untuk mengetahui bahwa dia berpulang di rumah leluhur dan orang-orangnya yang sebenarnya, oleh naga terakhir di dunia," ungkap sinopsis 'Game of Thrones' ini.
Baca juga: 'Game Of Thrones' Bukti Bahwa Es dan Api Sulit Digabungkan

Jawaban itu ada dalam bonus 'Game of Thrones' musim 8 versi DVD/Blu-ray yang dirilis HBO. HBO mempromosikan DVD itu dapat menjadi hiburan di momen liburan akhir tahun.
Simak Video "

Sophie Turner Ogah Tampil di Prekuel 'Game of Thrones'

"
[Gambas:Video 20detik]
(doc/tia)