tv-news
Kit Harrington Shock dan Menangis Tahu Akhir Menyedihkan Jon Snow
Selasa, 28 Mei 2019 12:38 WIB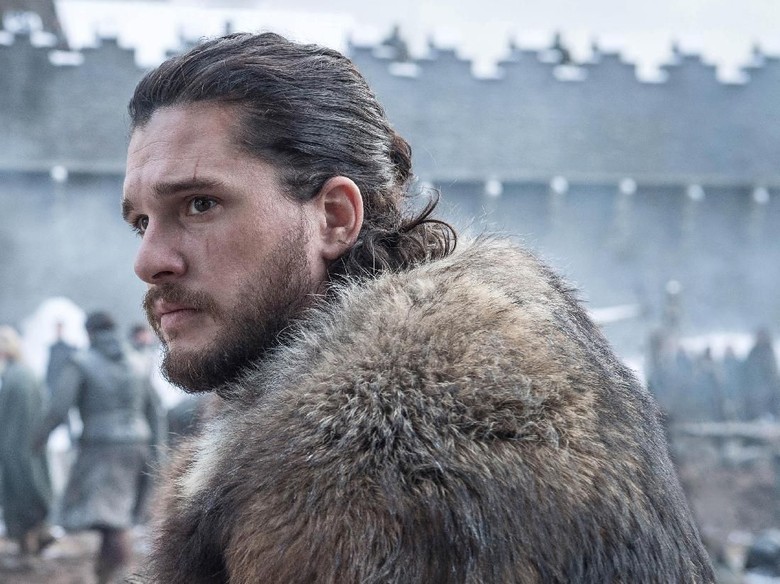 Foto: Dok. HBO
Jakarta
-
'Game of Thrones'
memang sudah rampung tayang di layar kaca. Akan tetapi ada potongan video di balik layar yang beredar baru-baru ini menampilkan para pemain tengah membaca naskahnya.
Yang menjadi perhatian yakni manakala Kit Harrington tampak terkejut mengetahui akhir karakter yang ia perankan sekaligus plot yang tertera sesuai skenario tersebut.
Video tersebut menampilkan proses reading atau pembacaan naskah yang dilalui para bintangnya sebelum memasuki proses produksi di depan kamera.

Kit tampak tak mempercayai akhir nasib karakternya tersebut. Ia yang duduk di samping Sophie Turner tampak kaget dan wajahnya seketika memerah mengetahui bagaimana Jon Snow pada akhirnya harus mengakhiri hidup Daenerys yang hampir duduk di takhta Iron Throne.


"Danny melangkah mendekati pria yang dicintainya dan ia menciumnya. Sebuah ciuman yang indah. Tangan Jon Snow memeluk mesra leher Danny, dan jemari Danny membalas mesra membelai pipi Jon Snow. Tiba-tiba mata Danny terbuka dengan napas tercekat. Mata Jon Snow dipenuhi dengan air mata, ia seakan tak percaya.
Kita melihat bagaimana tangan Jon Snow menghujamkan mata pisau itu menusuk jantung Danny," ungkap sang penulis skenario di sesi reading tersebut.

Kit tampak berkaca-kaca, begitu juga Emilia Clarke yang tak bisa menutup kesedihannya mengetahui akhir 'Game of Thrones'.

HBO kini tengah merilis dokumenter 'Game of Thrones: The Last Watch'. Bagian Kit Harrington menangis di sesi balik layar ini menjadi salah satu bagian dari dokumenter tersebut.
[Gambas:Instagram]
(doc/dal)