tv-news
9 Pertanyaan 'Game of Thrones' yang Belum Terjawab
Kamis, 23 Mei 2019 11:15 WIB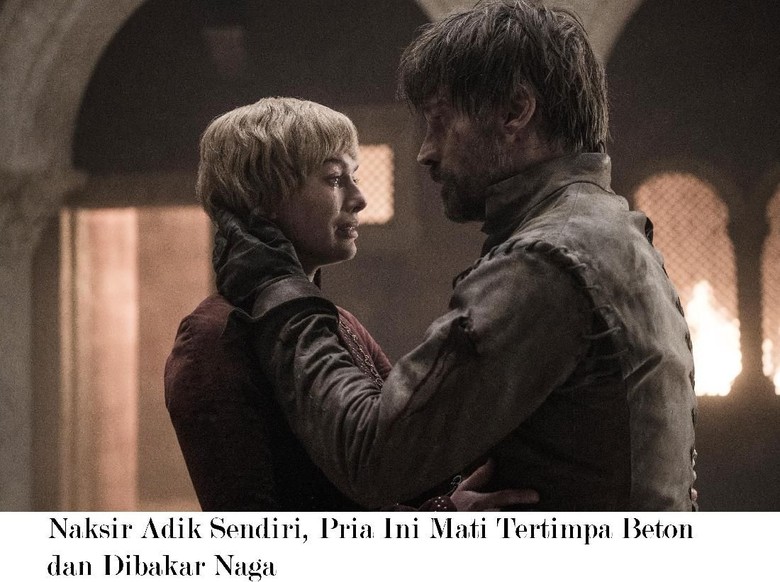 Foto: Dok. Ist
Jakarta
-
Serial TV terbesar sepanjang masa; 'Game of Thrones' akhirnya merilis episode terakhir dari musim terakhirnya. Para penggemar akhirnya mengetahui siapa yang menduduki Iron Throne dan apa yang dimaksud George RR Martin dengan akhir yang pahit.

Namun, masih ada beberapa alur yang ditinggalkan menggantung. Berikut ini adalah pertanyaan-pertanyaan yang belum dijawab 'Game of Throne'.

1. Apakah Cersei benar-benar hamil?


Lena Headey dibayar untuk minum anggur dan menatap King's Landing sepanjang musim. Tetapi dengan kematian dramatis Cersei dalam dua episode terakhir, ada tanda tanya besar mengenai kehamilannya.
Sebelumnya Cersei mencoba untuk menarik saudara lelaki/kekasihnya; Jaime dengan berita bahwa ia sedang hamil. Namun, beberapa penggemar berteori bahwa itu hanyalah kebohongan lain dalam rencananya.
2. Ada urusan apa dengan Faceless Men?
Jaqen H'ghar gagal menjadi mentor MVP seperti yang diharapkan banyak orang. Semua berpikir bahwa dia bisa menjadi Syrio Forel atau mungkin Petyr Baelish yang asli. Ternyata semua itu hanya teori.
Ditempat lain, Arya memakai kekuatannya untuk membunuh musuh. Semua orang disana berharap Arya berubah menjadi Jamie untuk mencekik Cersei. Dan penggemar tidak pernah menemukan bagaimana Faceless Men itu berhasil mengubah kulitnya yang mengelupas menjadi penyamaran yang meyakinkan.

3. Di mana Drogon?

Drogon mengeluarkan amarahnya di Iron Throne dengan melelehkan kursi runcing itu sebelum mengambil 'ibunya' -Daenerys- yang terbunuh dan pergi.

'The Iron Throne' berakhir dengan Small Council membahas apa ada yang melihat Drogon. Ada desas-desus bahwa ia terbang ke timur, sebelum Raja Bran Stark memutuskan untuk melacaknya.

4. Apa gunanya Night's Watch?

Salah satu kelihan terbesar musim delapan ini adalah kurangnya porsi untuk White Walkers. 'GoT' perlahan-lahan membangun manusia keji itu dan penggemar merasa sedikit kecewa karena Night's Watch dan gerombolannya dihancurkan dalam pertempuran Winterfell.

5. Apakah Bran selalu tahu apa yang akan terjadi?

Bran mungkin terlihat seperti pilihan yang populer untuk memerintah, tetapi ada perasaan bahwa dia bisa melakukan lebih banyak untuk menghentikan semua pertumpahan darah.

Tersirat bahwa Bran datang jauh-jauh dari Winterfell karena dia tahu akan dinobatkan menjadi raja baru.

6. Apa tujuan Dothraki sekarang?

Jadi penggemar melihat bahwa Gray Worm mengambil resimen-resimennya yang tidak ternodai untuk pergi dan melindungi Pulai Naath; memenuhi janjinya kepada Missandei. lalu bagaimana dengan Dothraki?

Melawan semua logika, ratusan dari mereka tampaknya selamat dari kehancuran. Mereka semua berputar-putar dengan mengunggang kuda saat Dany memberikan pidato kemenangannya. Namun, dimana mereka sekarang?

7. Siapa Azor Ahai?

Satu lagi ramalan yang gagal adalah mengenai identitas Azor Ahai. Jelas dalam bukunya, Benioff dan Weiss menutupi keterangan karakter tersebut.

Melisandre sendiri sangat memahami ramalan Lord of Light, dengan semua orang dari Jon hingga Hound disebut sebagai reinkarnasi dari penyelamat Seven Kingdom.

8. Siapa Valonqar?

Jika Azor Ahai tidak cukup menjadi duri di semua pihak, bagaimana dengan ramalan Valonqar? Kata-kata Maggy the Frog tentang kiamat semua menjadi kenyataan.

Valonqar sendiri adalah ramalan yang hanya terjadi dalam buku dan tidak dimaksudkan untuk muncul dalam serial .

9. Di mana Nymeria?

Musim terakhir nampaknya kesempatan yang sempurna untuk memperkenalkan kembali Nymeria. Salah satu dari sedikit karakter yang tidak mendapat kartu merah yang tepat. Nymeria sendiri terakhir kali terlihat di musim ketujuh.


(doc/nkn)