tv-news
Nasib Daenerys Sudah Ditentukan Sebelum 'Game of Thrones' Season 8
Senin, 20 Mei 2019 11:39 WIB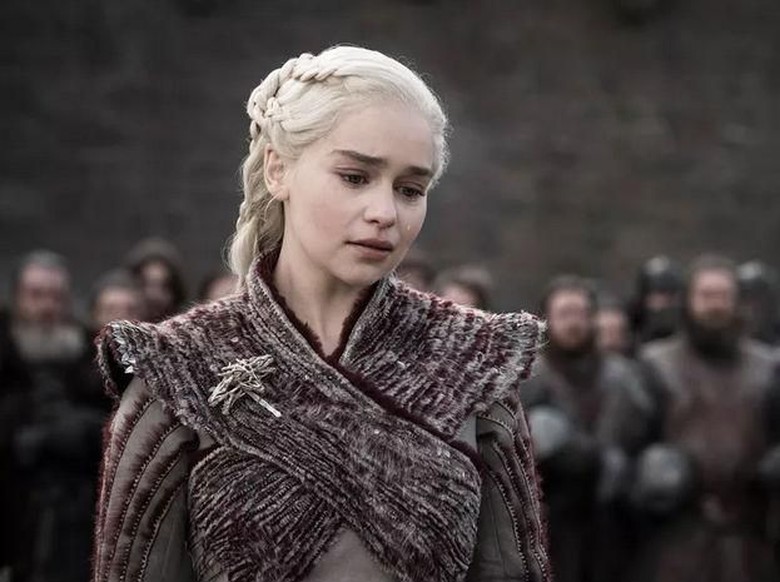 Foto: Dok. HBO
Jakarta
- Musim kedelapan
'Game of Thrones'
dibuat tidak berdasarkan buku yang ditulis George R.R. Martin walaupun sang penulis masih bertanggung jawab dan terjun langsung untuk serial TV HBO tersebut. Dan ternyata, nasib Daenerys Targaryen sudah ditentukan lama sebelum musim ini tayang.
(Warning! Major Spoiler. Berhenti di sini kalau kamu belum menonton 'Game of Thrones' musim kedelapan episode 6.)
Hal tersebut diungkap oleh David Benioff dan Dan Weiss saat dikutip dari People, Senin (20/5). Nasib
Daenerys Targaryen
sudah ditentukan bertahun-tahun lalu, bahkan membuat Emilia Clarke mengulang sejumlah jalan cerita di beberapa musim sebelumnya.
Para produser kadang meminta Clarke untuk melakukan adegan yang berbeda dari karakter Daenerys yang selama ini diketahuinya. Sehingga, saat mengetahui akhir dari Daenerys, sang aktris pun menyadari apa yang para penulis dan produser coba untuk lakukan.
"Beberapa kali aku merasa seperti, 'Kenapa kalian memberiku catatan itu'? Jadi ya, episode terakhir ini membuatku mengenang kembali semua catatan yang mereka berikan kepadaku," ungkap Emilia Clarke.
Sementara co-executive producer, Bryan Cogman, kematian Daenerys adalah hal paling besar dan paling berat yang pernah dilakukan di 'Game of Thrones'. Melihat sang Mother of Dragon memiliki fans fanatik dan banyak yang menantikan ia duduk di Iron Throne, walaupun publik mulai berubah pikiran setelah menonton dua episode terakhir serial TV ini.
"Aku masih tidak tahu bagaimana perasaanku tentang apa yang terjadi di musim ini. Dan aku memang membantu menulisnya. Secara emosional sangat menantang. Memang musim ini diciptakan untuk membuat penonton merasa tidak baik. Dan menurutku, (membunuh Daenerys) bukan hal yang buruk," ungkap Bryan.
Video: Fans ''Game of Thrones'' Minta Ada Spinoff untuk Arya Stark
"Ada tendensi berbahaya saat ini untuk membuat karya dan kultur pop yang 'aman' bagi semua orang, dan membuat penonton merasa baik-baik saja saat menontonnya. Aku tak percaya hal seperti itu. 'Game of Thrones' adalah serial yang berantakan dan abu-abu, dan seperti itu memang seharusnya serial ini dibuat. Dari Jaime mendorong anak kecil dari jendela, sampai kematian Ned Stark, dan Red Wedding. Ini memang cerita yang membuatmu terguncang dan menantang, dan membuatmu bertanya-tanya. Kurasa itu yang ingin dilakukan George (R.R. Martin) dan David dan Dan," pungkasnya.
'Game of Thrones' musim kedelapan episode 6 masih bisa disaksikan di HBO dalam siaran ulang pada pukul 21.00 WIB hari ini.
(dal/doc)