tv-news
Menuju Episode Final 'GoT', George RR Martin Geram Banyak Rumor
Senin, 20 Mei 2019 04:17 WIB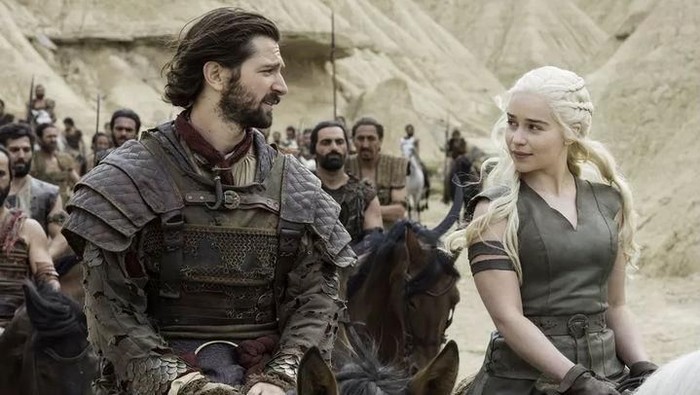 Game of Thrones Foto: Dok. HBO
Jakarta
- Episode final dari musim kedelapan serial televisi HBO 'Game of Thrones' tiba juga hari ini. Musim terakhirnya dikritik habis-habisan oleh fans 'GoT' hingga muncul petisi. Penulisnya George RR Martin pun mendapat kecaman.
Ia diserang dengan banyaknya rumor. Termasuk mengenai dua novel terakhir dari seri 'A Song of Ice and Fire' yang memunculkan 'Game of Thrones' dan tak kunjung terbit.
"Tampaknya tidak masuk akal bagi saya untuk terus menunda penerbitan novel sampai serial televisi musim kedelapan selesai. Ini mengejutkan bagi saya karena banyak dari pembaca yang percaya akan cerita ini, bahkan untuk sesaat," ujar George RR Martin, dilansir dari CNN, Senin (20/5/2019).
"Mengapa saya harus duduk selama bertahun-tahun untuk novel yang sudah selesai? Mengapa penerbit saya, tidak hanya di AS tapi di seluruh dunia tetap menunggu, padahal mereka bisa menghasilkan jutaan dolar setiap kali buku saya terbit, begitu juga saya yang menunggu royalti," ujarnya lagi.
Dia kembali menambahkan dengan menunda penerbitan novelnya tidak akan menjadi kepentingan terbaik bagi HBO.
"Kenapa HBO juga ingin novelnya ditunda? Buku itu membantu menambah minat dalam serial televisi, seperti halnya serial televisi yang mampu menambah minat pada buku," jelas George RR Martin.
Saking geramnya dengan berbagai rumor jelang episode final 'GoT', ia menuliskan tiga tulisan di blog dengan judul 'Idiot di Internet'. Ia juga menegaskan episode final tersebut tak akan mengecewakan para penggemarnya.
"Tidak, tidak akan (membuat kecewa)," pungkasnya.
Tonton video Diduga 10 Juta Orang Bolos Kerja Demi Final ''Game of Thrones 8'':
(tia/nu2)