music
MLDSPOT Stage Bus Jazz Tour 2019 Siap Sambangi 17 Kota
Jumat, 02 Agu 2019 16:31 WIB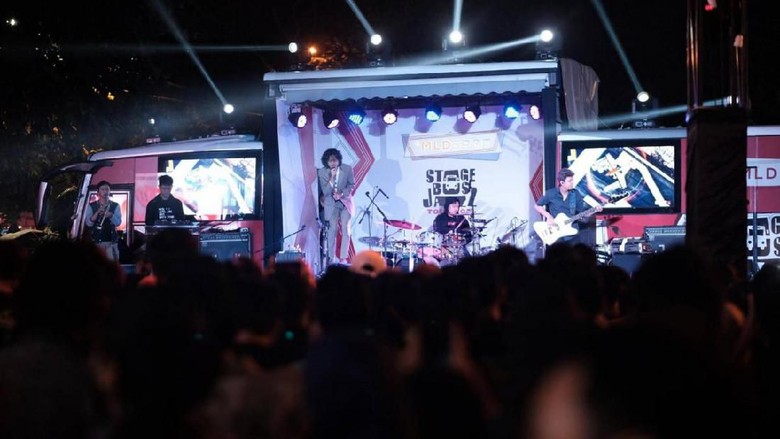 Foto: Istimewa
Jakarta
- Setelah sukses menggelar acara tahunan Stage Bus Jazz Tour sejak 2015, MLDSPOT kembali menggelar acara serupa tahun ini. Penikmat musik jazz bisa menonton pertunjukan jazz seru di MLDSPOT Stage Bus Jazz Tour mulai 27 Juli hingga 6 Oktober 2019.
Masih sama mengusung konsep pertunjukan musik di atas bus, MLDSPOT Stage Bus Jazz Tour 2019 dikemas dengan lebih unik. Adapun tahun ini MLDSPOT Stage Bus Jazz Tour akan mengajak musisi pop jazz ternama Indonesia dan memberikan nuansa berbeda dengan menambah ruang pada bagian sisi kanan dan kiri panggung. Sehingga interaksi dan kedekatan penonton dan musisi akan lebih intim.
Tahun ini, MLDSPOT bekerja sama dengan para musisi dan artis jazz papan atas Indonesia dan beberapa musisi baru di lintas genre. Musisi yang akan meramaikan MLDSPOT Stage Bus Jazz Tour 2019 antara lain Isyana Sarasvati, Petra Sihombing, The Groove, Payung Teduh, GAC, Yura, Ahmad Abdul, The Overtunes, Rendy Pandugo, Jason Ranti, Barasuara, Fourtwnty, HIVI, Pamungkas, dan Ardhito Pramono.
Ada juga penampilan dari Pusakata, Tashoora, Monita Tahalea, Abdul and The Coffee Theory, Aurelie, Mocca, Syaharani and Queenfireworks, Indro Hardjodikoro feat. Srutti Respati, Aksan Sjuman Trio, Deredia, Sal Priadi, Vira Talisa, Devian Zikri, Bass G, Lalahuta, dan MLDJAZZPROJECT Season 4.
Makin seru, sisi Floor Area MLDSPOT Stage Bus Jazz Tour 2019 menjadi konsentrasi MLDSPOT dengan berbagai dekorasi dan instalasi yang instagramable. Pengunjung juga akan dimanjakan dengan ragam game menarik seperti MLDSPOT Taste The Music. Pengunjung bisa memilih tiga lagu yang bisa menghasilkan rasa yang mengejutkan, yaitu bisa dijadikan mixed jus buah atau kopi.
Ada juga game MLDSPOT Catch The Sticks yang akan menguji ketangkasan pengunjung yang memainkannya. Game tersebut bisa dimainkan dengan menggunakan stamp card atau kartu bermain. Pengunjung yang mendapatkan stempel yang dikumpulkan dari stamp card berkesempatan mendapatkan doorprize, yaitu Samsung A30 di tiap kota.
Simak Video "

Jazz Gunung 2019 Ingin Satukan Perbedaan Lewat Musik

"
[Gambas:Video 20detik]
(ega/ega)