music
Saat SZA, The Weeknd, Travis Scott Jadi Tokoh 'GoT' dalam 'Power is Power'
Senin, 06 Mei 2019 12:20 WIB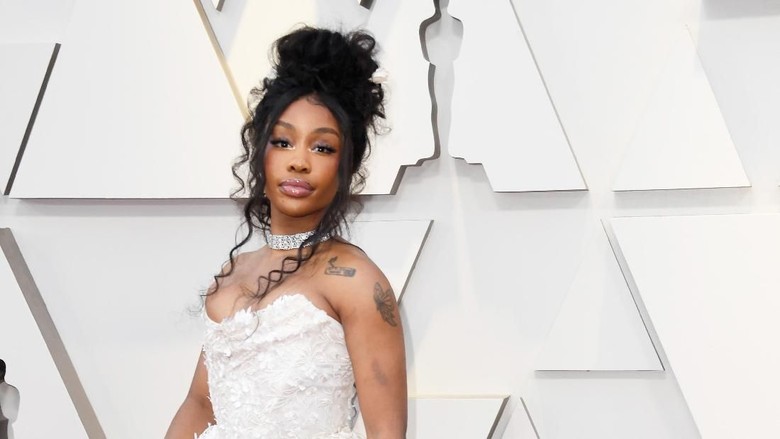 SZA. Foto: Frazer Harrison/Getty Images
Jakarta
-
Travis Scott
,
The Weeknd
, dan
SZA
merilis video klip lagu untuk soundtrack '
Game of Thrones
' (GoT). Lagu tersebut berjudul 'Power Is Power'.
Lagu tersebut masuk ke dalam album kompilasi 'For the Throne' yang rilis bulan lalu.
Selain kolaborasi dari The Weeknd, SZA dan Travis Scott, album itu juga diisi oleh Matt Bellamy 'Muse', The National, Mumford & Sons, dan A$AP Rocky.
Dalam video klipnya yang berdurasi 3 menit 31 detik, ketiga musisi tersebut meniru gaya para tokoh 'Game of Thrones'. The Weeknd sebagai Jon Snow dan SZA sebagai Daenerys Targayen.
Sedangkan Travis Scott tampaknya tidak menggambarkan karakter apa-apa namun ia terlihat duduk di atas tahta.
Dalam video tersebut juga terdapat sejumlah cuklikan dari seri 'Game of Thrones'.
Album 'For the Throne' dirilis dalam 11 bentuk piringan hitam yang berbeda-beda. Ada sembilan sampul yang masing-masing bertema house (klan dalam 'Game of Thrones') yang berbeda-beda.
'Game of Thrones' merupakan serial televisi yang diadaptasi dari novel karya George R.R. Martin. Tahun ini, 'GoT' menginjak musm ke-8 yang disebut-sebut sebagai musim final.
Pada tanggal Sen, 6 Mei 2019 pukul 11.46 Dyah Paramita Saraswati
menulis:
Bila SZA, The Weeknd, Travis Scott Jadi Tokoh 'Game of Thrones' dalam 'Power is Power'

Travis Scott, The Weeknd, dan SZA merilis video klip lagu untuk soundtrack 'Game of Thrones'. Lagu tersebut berjudul 'Power Is Power'.

Lagu tersebut masuk ke dalam album kompilasi 'For the Throne' yang rilis bulan lalu.

Selain kolaborasi dari The Weeknd, SZA dan Travis Scott, album itu juga diisi oleh Matt Bellamy 'Muse', The National, Mumford & Sons, dan A$AP Rocky.

Dalam video klipnya yang berdurasi 3 menit 31 detik, ketiga musisi tersebut meniru gaya para tokoh 'Game of Thrones'. The Weeknd sebagai Jon Snow dan SZA sebagai Daenerys Targayen.

Sedangkan Travis Scott tampaknya tidak menggambarkan karakter apa-apa namun ia terlihat duduk di atas tahta.

Dalam video tersebut juga terdapat sejumlah cuklikan dari seri 'Game of Thrones'.

Album 'For the Throne' dirilis dalam 11 bentuk piringan hitam yang berbeda-beda. Ada sembilan sampul yang masing-masing bertema house (klan dalam 'Game of Thrones') yang berbeda-beda.

'Game of Thrones' merupakan serial televisi yang diadaptasi dari novel karya George R.R. Martin. Tahun ini, GoT menginjak musm ke-8 yang disebut-sebut sebagai musim final.




(srs/doc)