music
TOTO Bakal Jadi Penampil Spesial di Java Jazz 2019
Jumat, 21 Des 2018 14:39 WIB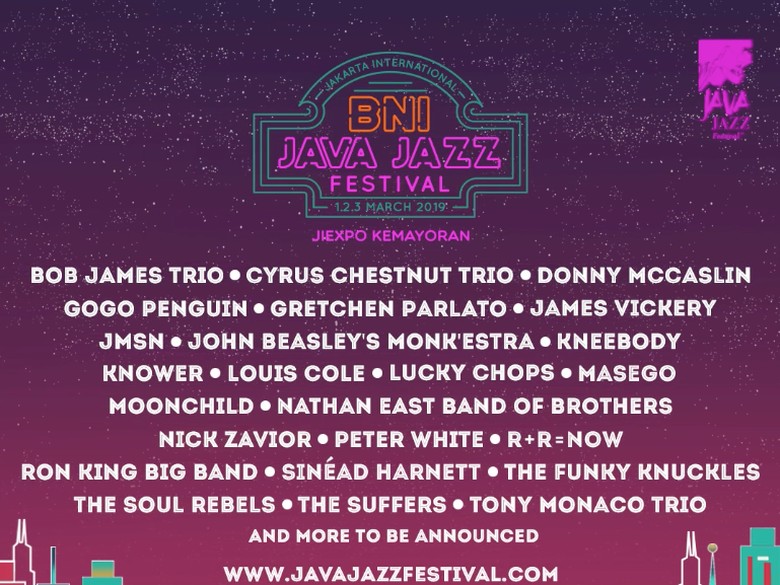 Foto: Java Jazz Festival 2019
Jakarta
- Java Jazz Festival akan digelar lagi tahun depan. Penyelenggaraannya akan kembali berlangsung selama 3 hari, yakni pada 1 hingga 3 Maret 2019.
JIExpo, Kemayoran, Jakarta Pusat bakal kembali menjadi tempat penyelenggaraan dari festival musik tersebut.
Di tahun ini, grup musik rock dan jazz fusion asal Los Angeles, Amerika Serikat, TOTO, bakal menjadi salah satu penampil.
Bermusik sejak era 1970-an, TOTO sudah lebih dari 40 tahun berkarya. 'Hold The Line', 'Rosanna' dan lain-lain menjadi lagu-lagu dari band tersebut yang mendunia.
Selain TOTO ada sejumlah musisi lainnya yang telah diumumkan di antaranya Bob James Trio, Cyrus Chestnut Trio, Donny McCaslin, GoGo Penguin, Gretchen Parlato, James Vickery, JMSN, dan lain-lain.
Sedangkan dari dalam negeri ada sejumlah nama yang diumumkan juga turut memeriahkan festival musik tersebut, di antaranya Teddy Adhitia, Andien, EndahN Rhesa Extended, Indra Aziz for Good hingga The Soulful.
Tahun lalu, Java Jazz juga menghadirkan sejumlah penampil, mulai dari Goo Goo Dolls, Daniel Caesar, Lauv, Elek Yo Band feat. Endah N Rhesa, dan lain-lain.
(srs/ken)