movie
Vin Diesel Beri Bocoran 'Guardian of the Galaxy 3'
Selasa, 04 Feb 2020 20:08 WIB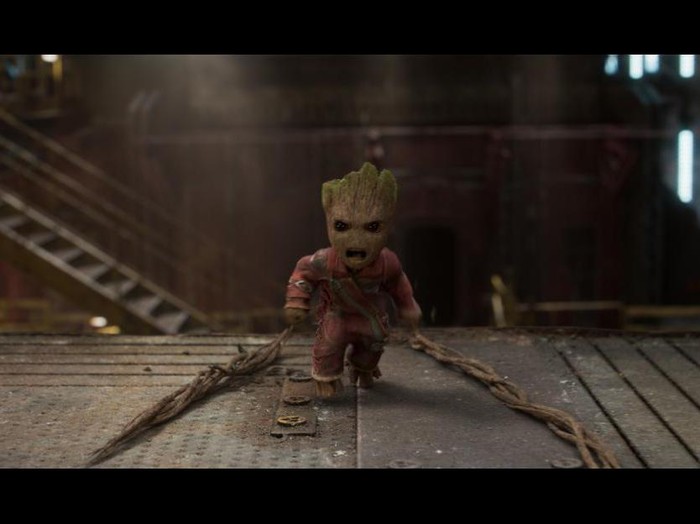 Aksi Groot di Guardian of the Galaxy. Foto: Dok. Walt Disney Studios Motion Pictures
Jakarta
-
Banyak yang tak sabar menantikan kehadiran film 'Guardian of the Galaxy 3' usai kembalinya James Gunn di kursi sutradara. Salah satu bintangnya, Vin Diesel, membagikan bocoran terkait jalan cerita film tersebut.

Saat diwawancarai oleh LADBible, pengisi suara Groot itu hanya mengatakan dua kata saja yakni 'Alpha Groot'. Hal ini pun membuat heboh para fans Marvel, karena banyak fans yang menantikan aksi karakter alien berbentuk pohon itu.
Beberapa pun mengartikan ucapan Vin Diesel sebagai tanda apakah Groot akan tampil dalam bentuk sempurnanya dan tak lagi sebagai remaja atau justru Groot akan mendapatkan peran penting dalam jalan cerita mendatang.
Dalam film 'Guardian of the Galaxy', Groot sempat diceritakan mati di akhir film yang kemudian digantikan oleh putranya Baby Groot. Penampilannya di 'Guardian of the Galaxy 2' dan 'Avengers: Infinity War' pun disukai oleh para fans Marvel karena dianggap lucu dan menggemaskan.

Namun sayangnya Groot kembali menghilang usai jentikan jari dari Thanos. Dirinya kembali hidup di film 'Avengers: Endgame' dan memutuskan untuk berpetualang bersama timnya beserta Thor.

Selain itu, ada pula rumor soal keikutsertaan karakter Fantastic Four dalam film tersebut yakni Galactus atau Silver Surfer. Hal ini muncul lewat pertanyaan netizen kapada James Gunn.

"Aku sudah berdiskusi tentang hal tersebut," balas James Gunn.

Hal ini pun dianggap mungkin terjadi usai Fox, yang memiliki lisensi karakter tersebut, telah dibeli oleh Disney. Apalagi sebelumnya Kevin Feige kerap mengatakan jika dirinya akan memperbesar universe dalam film Marvel dengan menggandeng superhero lainnya seperti X-Men.
Simak Video "

'Bloodshot', Mungkin Cuma Bisa Dinikmati Fans Vin Diesel

"
[Gambas:Video 20detik]
(ass/imk)