movie
Rumor Romansa Antara 2 Karakter Pria di Star Wars, Ini Kata JJ Abrams
Rabu, 04 Des 2019 12:23 WIB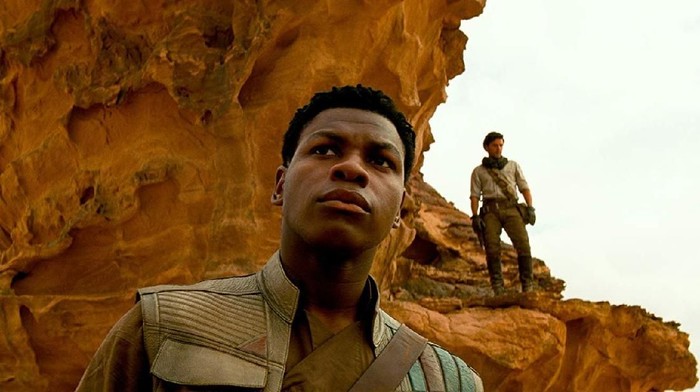 Foto: John Boyega and Oscar Isaac in 'Star Wars: The Rise of Skywalker' (imdb.)
Jakarta
-
Penggemar Star Wars tengah menyambut kehadiran 'The Rise of Skywalker' yang akan menjadi seri terakhir dari saga Skywalker. Ada hal lain yang juga menjadi perhatian dari kisah ini.

Yakni dua karakter pria yaitu Finn (John Boyega) dan Poe Dameron (Oscar Isaac). Dilaporkan banyak penggemar yang berharap hubungan keduanya tak hanya sebatas pejuang Resistance melawan Empire.

Kedua karakter itu diharapkan punya kisah romansa di antara mereka. Ada slogan 'FinnPoe' yang bertebaran di lingkar penggemar Star Wars.

Soal ini, sutradara JJ Abrams pun buka suara.


"Hubungan mereka sebenarnya lebih dalam ketimbang hubungan romantis," kata Abrams seperti dilansir Comicbook.
"Keduanya memiliki semangat yang sama, itu yang mungkin membuat mereka terlihat dekat. Mereka juga memiliki ketakutan yang sama namun keberanian mereka juga tak sirna," ungkap Abrams lagi.


Romansa di antara Finn dan Poe agaknya memang cuma rumor. Senada dengan Abrams, sang aktor, Oscar Isaac mengatakan kemungkinan ada hubungan lebih antara karakternya dengan karakter John Boyega adalah hal yang belum ada saat ini.

"Jika memang mereka adalah sepasang kekasih, rasanya akan menyenangkan untuk dilihat," tukas Oscar.
Simak Video "

'Star Wars: The Rise of Skywalker', Kok Kayak Sinetron?

"
[Gambas:Video 20detik]
(doc/dal)