movie
Daisy Ridley Buka Suara soal Karakternya Pindah ke Dark Side
Jumat, 29 Nov 2019 12:54 WIB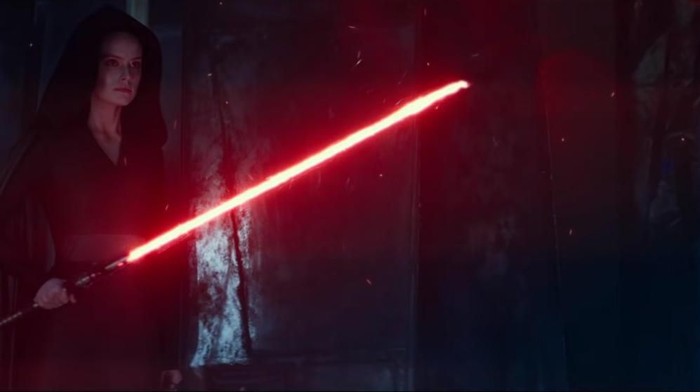 Foto: Star Wars The Rise of Skywalker (imdb.)
Jakarta
-
Eksistensi sosok Rey yang diperankan Daisy Ridley di 'Star Wars' bikin kaget penggemar di seri 'The Rise of Skywalker'. Sepotong adegan Rey di trailer menampilkan Rey memegang lightsaber merah.

Penampilan itu membuat geger sebab dari kemunculannya di 'The Force Awakens', Rey dianggap kontra pada sisi gelap. Baru-baru ini Daisy Ridley pun buka suara soal penampilannya tersebut.

"Itu adalah sosok Dark Rey," ungkapnya saat hadir di acara talkshow Jimmy Fallon.

Tentu, Daisy Ridley enggan mengungkap lebih jauh soal perannya. Film 'The Rise of Skywalker' baru tayang 20 Desember 2019.


Ia hanya membagikan sedikit petunjuk lagi bahwa ia memainkan dua peran tak biasa untuk sosok Rey.
"Menyenangkan rasanya bermain sebagai sosok baik dari seseorang sekaligus menjadi versi terburuk dari orang tersebut," tuturnya.


JJ Abrams kembali ambil bagian menyutradarai seri Star Wars kali ini. Setelah sebelumnya ia berada di balik 'Star Wars: The Force Awakens'. 'The Rise of Skywalker' juga membawa kembali penampilan John Boyega.

Film ini juga membawa lagi Carrie Fisher meski di dunia nyata sang aktris telah meninggal dunia.
Simak Video "

'Star Wars: The Rise of Skywalker', Kok Kayak Sinetron?

"
[Gambas:Video 20detik]
(doc/doc)