movie
Cerita Emilia Clarke saat Jalani Adegan Intim dengan Jason Momoa
Rabu, 20 Nov 2019 13:12 WIB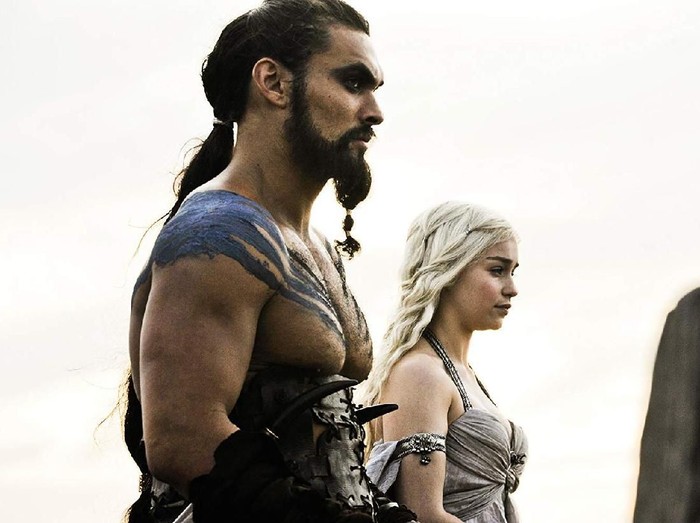 Jason Momoa dan Emila Clarke. Foto: Dok. HBO
Jakarta
-
Emilia Clarke masih berusia 23 tahun saat melakoni adegan intim di serial 'Game of Thrones'. Perannya sebagai Daenerys Targaryen membuatnya harus melakukan adegan tanpa busana hingga berhubungan intim dengan sosok tinggi besar yang menjadi suaminya yakni, Jason Momoa.
Emilia mungkin saja mengalami trauma, mengingat itu adalah adegan paling berani yang dilakukannya sepanjang kariernya di dunia hiburan karena sebelumnya ia tak pernah menjadi pemeran utama di serial televisi lainnya.
Namun ketakutan Emilia sedikit mereda setelah dekat dengan bintang 'Aquaman' tersebut. Meski bertubuh kekar dan tampang gahar, Jason disebut sebagai pribadi yang hangat dan kerap meneteskan air mata.
"Ia (Jason Momoa) menjaga aku di lingkungan yang aku tak tahu jika aku butuh penjagaan. Jason merupakan aktor berpengalaman yang sudah melakukan banyak hal sebelum bergabung dengan Game of Thrones. Ia pun selalu berkata,'Bisakah kita memberikannya baju? Dia kedinginan!'" tuturnya dalam 'Armchair Expert' bersama Dax Shepard.
"Baru saat ini aku sadari betapa beruntungnya aku. Hal itu bisa menjadi sangat berbeda. Ia (Jason) sangat baik, perhatian dan menghargai aku sebagai seorang manusia," tambahnya.
Emilia memang menjadi istri dari Jason Momoa dalam serial tersebut. Jason yang berperan sebagai Khal Drogo pun mengambil Emilia sebagai istrinya karena urusan politik sang kakak yakni Viserys. Adapula adegan di mana dirinya memperkosa Emilia di musim pertama.
Simak Video "

Nama Anak Sophie Turner-Joe Jonas Diambil dari Karakter 'GOT'

"
[Gambas:Video 20detik]
(ass/doc)