movie
Pengakuan Emilia Clarke soal Adegan Tanpa Busana di 'Game of Thrones'
Rabu, 20 Nov 2019 11:35 WIB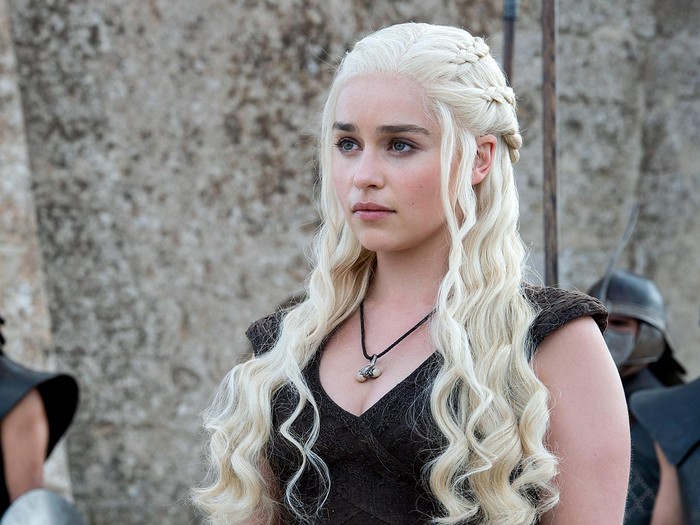 Emilia Clarke ngaku dipaksa telanjang di 'Game of Thrones'. Foto: Dok. HBO
Jakarta
-
Di musim-musim awal, serial 'Game of Thrones' terkenal dengan konten-konten dewasa dan beragam adegan intim. Hampir seluruh aktris dan aktor di serial tersebut pernah menjalani adegan tanpa busana.
Emilia Clarke yang berperan sebagai Daenerys Targaryen itupun menceritakan bagaimana dirinya diminta untuk melakoni adegan tersebut. Menurutnya ia dipaksa untuk menunjukkan tubuhnya demi memuaskan para fans serial tersebut.
Hal ini diungkapkannya dalam sebuah wawancara bersama Dax Shepard di podcast miliknya.
"Aku bertengkar di lokasi sebelumnya di mana aku seperti, 'Tidak, selimutnya tetap diangkat,' dan mereka pun menjawab,'Kau tak ingin mengecewakan fans 'GoT' mu,' akupun menjawab,'Persetan dengan kau,'" tuturnya.
Emilia pun mengatakan jika dirinya mencoba untuk memberanikan dirinya untuk menjalani adegan tersebut, namun ia tetap merasa tak setuju dan kesal jika harus tampil tanpa busana.
"Aku sudah berada di lokasi film dua kali sebelumnya, dan sekarang aku berada di sana tanpa busana dengan semua orang-orang itu. Dan aku tak tahu apa yang harus aku lakukan dan aku tak tahu apa ekspektasi mereka," terang bintang 'Last Christmas' itu.
Ia pun bersyukur mendapatkan lawan main seperti Jason Momoa. Emilia menyebut bintang 'Aquaman' itu sangat membantu dirinya melewati fase-fase sulit tersebut termasuk adegan ranjang dengan pemeran Khal Drogo itu.
Simak Video "

Sophie Turner Ogah Tampil di Prekuel 'Game of Thrones'

"
[Gambas:Video 20detik]
(ass/doc)