movie
Ini Persamaan Night King dan Thanos
Senin, 29 Apr 2019 15:30 WIB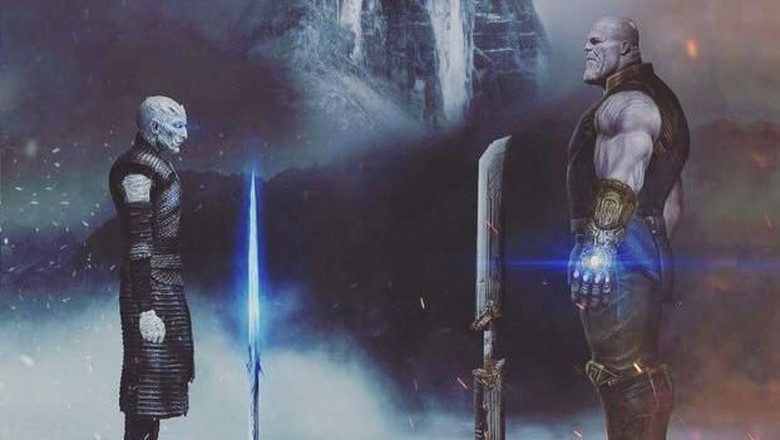 Foto: dok Twitter
Jakarta
-
Awas Spolier!
Jangan meneruskan membaca jika belum menyaksikan film dan serialnya. Dahaga penggemar Marvel baru saja terpuaskan dengan '
Avengers: Endgame
'. Seperti tak diberi napas, hari ini muncul episode ketiga di sesi terakhir '
Game of Thrones
'.
Dan lagi-lagi, mereka dibuat berdecak kagum dengan penampilan Jon Snow cs yang menghadapi perang besar melawan Night King. Membuat media sosial riuh dengan hal-hal soal Night King.
Sosok Thanos pun turut muncul di antara keramaian itu. Bahkan, sutradara 'Endgame' juga menambahkannya dengan mengunggah foto Night King dan Thanos.
Foto artistik itu memperlihatkan dua supervillain itu berhadapan dengan senjata masing-masing. Keduanya tampak memasang wajah dingin dengan pemandangan bukit bersalju.
Ada beberapa persamaan antara Thanos dengan Night King, terutama keduanya akhirnya berhasil dibunuh oleh Stark. Di 'Endgame', Tony Stark berhasil menjentikkan jarinya meleburkan Thanos menjadi debu, sementara di 'Game of Thrones', sosok Arya Stark tampil sebagai pahlawan dengan satu tusukan di perut penjahat itu, hingga membuatnya pecah menjadi salju.
(nu2/doc)