movie
Jelang Tayang Musim Terakhir, Yuk Intip Rahasia Produksi 'Game of Thrones'!
Minggu, 14 Apr 2019 17:49 WIB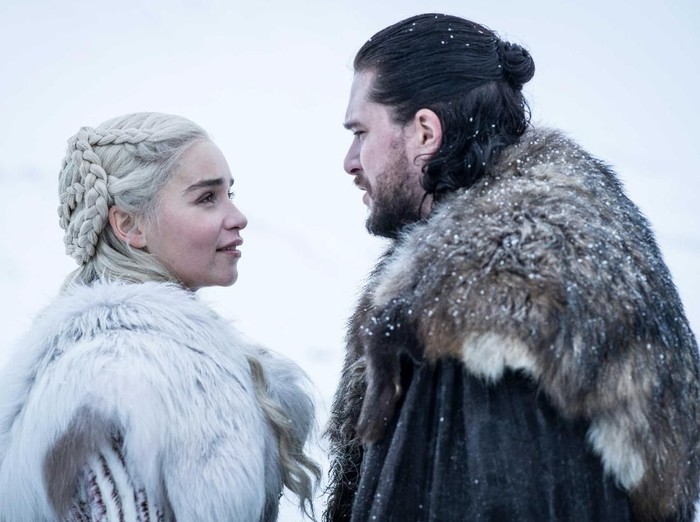 Foto: Dok. HBO
Jakarta
- Episode pertama musim kedelapan '
Game of Thrones
' akan ditayangkan esok hari, Senin (15/4) di HBO. Yuk, intip fakta-fakta baru soal produksi salah satu serial TV terpopuler ini.
Berdasarkan rilis yang diterima detikHOT, diketahui ternyata selama 8 season ini, 'Game of Thrones' telah melakukan syuting di 10 negara yaitu Irlandia Utara, Republik Irlandia, Maroko, Malta, Spanyol, Kroasia, Islandia, Amerika Serikat, Kanada, dan Skotlandia. Terdapat 50 lokasi di Irlandia yang digunakan untuk syuting, termasuk 49 lokasi di Irlandia Utara dan satu di Republik Irlandia.
Belfast, Irlandia Utara merupakan markas Titanic Studios, yang telah melakukan enam sesi pengambilan gambar dengan interior Winterfell, Castle Black, High Hall in the Eyrie, Sky Cells of Eyrie, Hall of Faces, House of Black and White, Great Sept of Baelor, Great Pyramid of Meereen Throne Room dan King's Landing Throne Room yang paling ikonik.
Untuk musim ke-8 musim, 'Game of Thrones' sudah menggunakan pemain tambahan sebanyak 12.986 di Irlandia Utara dan 2000 kru Irlandia Utara.
Tak hanya itu, serial ini sudah menggunakan 40 rumah produksi VFX di 13 negara seperti Amerika Serikat, Australia, China, hingga India. Selama 7 musim, terdapat 13.250 pengambilan gambar VFX.
Sementara di musim ke-8 ini, dibutuhkan 42 pekan untuk pascaproduksi. Musim yang sekaligus menjadi penutup seri 'Game of Thrones' tersebut membutuhkan pascaproduksi paling lama dibandingkan 7 musim sebelumnya.
Nah, makin nggak sabar kan? Jangan lupa tonton episode 1 musim ke-8 'Game of Thrones' esok pagi, pukul 08.00 WIB hanya di HBO. Penayangan ulang akan disiarkan di hari yang sama pukul 20.00 WIB.
(dal/dar)