movie
Fallout Jadi Seri Mission: Impossible Terlaris
Senin, 30 Jul 2018 14:30 WIB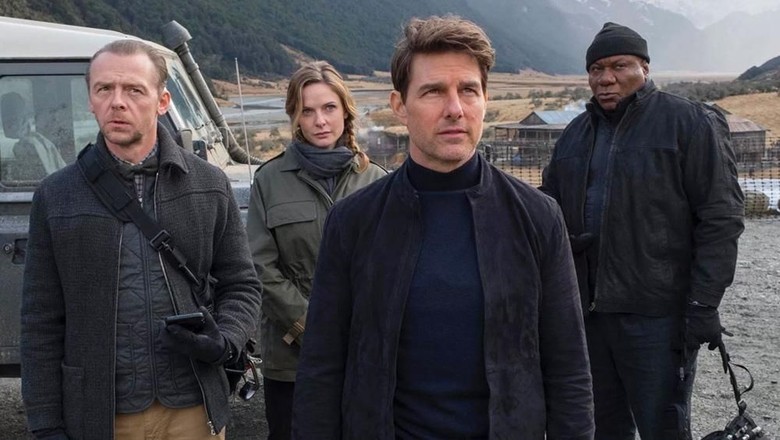 Mission Impossible (Foto: imdb.)
Jakarta
-
'Mission: Impossible - Fallout'
dengan mudah jadi box office akhir pekan ini. Itu juga menandai pembukaan tertinggi waralaba yang dibintangi
Tom Cruise
itu.
Film tersebut memulai debutnya pada 1996, sehingga muncul penilaian bahwa usianya kini seperti anggur yang lagi bagus-bagusnya. Ada enam film dirilis dengan banyak penilaian bahwa Fallout bakal menjadi film terbesar dalam beberapa tahun terakhir.
Pernyataan kritis yang tersebar dari Ghost Protocol dan Rogue Nation, menyebabkan film tersebut menghasilkan lebih dari 600 juta USD di seluruh dunia. Hasil itu juga begitu diharapkan untuk Fallout.
Setelah menggelar premier, banyak yang menganggap film seri terbaru itu akan memecahkan rekor akhir pekan pada pembukaannya. Dan buktinya memang sutradara Christopher McQuarrie mampu berdiri tegak dengan memulai awal yang bagus.
'Mission: Impossible - Fallout' menghasilkan 61 juta USD dalam negeri pada tiga hari pertama. Itu merupakan yang terbaik dalam waralaba tersebut.
Sebelumnya 'Mission: Impossible II' yang memiliki debut merek terbesar meraih 57,8 juta USD. Film ini juga melakukan bisnis yang solid secara internasional, karena totalnya di seluruh dunia adalah 153,5 juta USD. Dengan anggaran produksi sekitar 180 juta USD, Fallout berada di jalan menuju profitabilitas.
Mengapa di kalimat awal film ini disebut sebagai anggur yang usianya lagi bagus-bagusnya? Karena 'Mission: Impossible - Fallout' berbeda dengan 'Ant-Man and the Wasp' yang juga punya sertifikat mentereng dalam silsilah Marvel Studio. Tapi film itu masih lebih ringan dibanding dengan waralaba 'Mission: Impossible' yang memiliki bukti jangka panjang.
Fallout dipandang sebagai film klasik modern yang menuntut untuk dilihat di layar lebar. Khalayak umum lapar akan film yang sesuai dengan hype.
Mission Impossible 6 Jadi Juara Box Office Minggu Ini, Simak Videonya:


(nu2/nu2)