movie
Aksi Paling Bikin Merinding Tom Cruise di Mission Impossible-Fallout
Rabu, 25 Jul 2018 10:45 WIB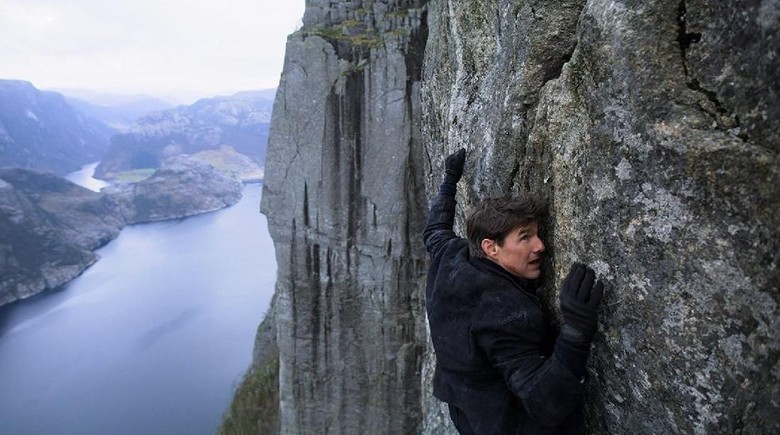 Foto: imdb.
Jakarta
-
Mission: Impossibele-Fallout tayang di bioskop hari ini. Banyak orang pun semakin tak sabar untuk menonton aksi menantang Tom Cruise sabagai Ethan Hunt.
Salah satu adegan paling ditunggu adalah HALO jump. Penggemar MI sudah tak sabar karena beberapa bulan lalu, sang aktor pernah membagikan behind the scene dari aksi berbahaya itu.

Jack Myers, sutradara MI - Fallout mengatakan, HALO jump merupakan kependekan dari high altitute - low opening yang biasa dilakukan dalam operasi militer.

Dikutip dari Hollywood Reporter, Myers mengatakan adegan itu sangat berisiko. Namun dalam skenario film, Ethan harus melakukan adegan itu.
Dan yang lebih menegangkan, Tom Cruise selaku pemain, dikenal pantang menggunakan stunt man. Berbagai cara pun dilakukan untuk meminimalisir kemungkinan gagal.

A full year in the making. Check out how we did it. #MissionImpossible Falloutpic.twitter.com/FMsPWfSZfR

— Tom Cruise (@TomCruise) June 3, 2018
"Kami sampai membuat helm untuk properti film yang sekaligus bisa menjadi penyelamat," kata Wade Eastwood, koordinator stunt MI-Fallout.
Dan saking sulitnya adegan itu, para kru wajib didampingi pihak militer. Adegan pun dilakukan berkali-kali untuk mendapatkan gambar sempurna.
Butuh 100 lompatan untuk mendapatkan adegan itu. "Dan saat melompat, aktor akan terjun bebas dengan kecepatan 402 km per jam. Salah sedikit saja, akan fatal," kata sang sutradara.
Dan Tom Cruise berhasil menyelesaikan adegan itu. Bahkan bapak satu anak itu tak sabar melihat hasilnya.



Tonton juga video: 'Aksi Tom Cruise & Henry Cavill di 'Mission Impossible: Fallout'

(ken/dal)