Laporan dari Los Angeles
Ini Wanita Pertama yang Menang 2 Oscar untuk Film Dokumenter
Jumat, 04 Mar 2016 12:15 WIB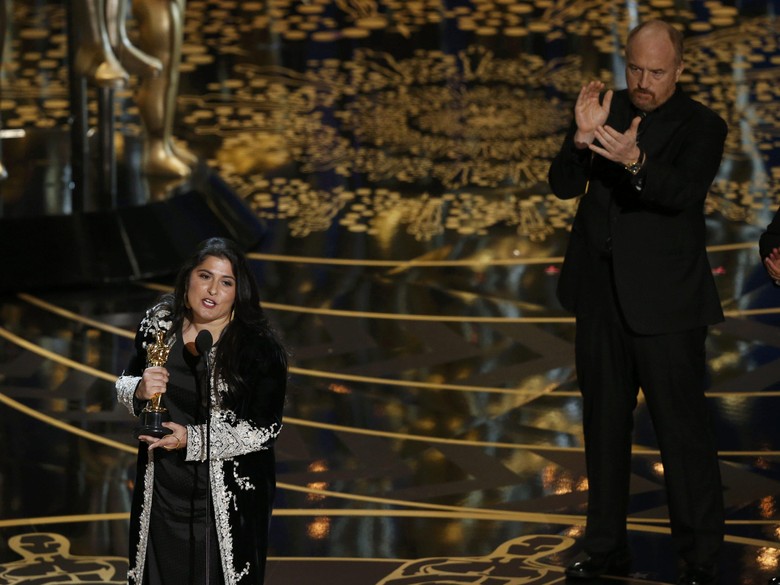 Foto: REUTERS/Mario Anzuoni
Los Angeles
-
"Terima kasih Tuhan, aku sudah punya dua sekarang," kata Sharmeen Obaid-Chinoy saat menerima piala Oscar di Dolby Theatre, Hollywood. Dia adalah filmmaker Pakistan yang mencetak rekor sebagai wanita pertama dengan dua piala Oscar untuk film dokumenter.

Sharmeen memenangkan piala keduanya lewat film dokumenter (short subject) produksi HBO berjudul 'A Girl in the River: The Price of Forgiveness.' Film ini membahas tekanan antara modernisasi dan tradisi di Pakistan, dan keberanian seorang perempuan muda yang bertahan hidup untuk menceritakan usahanya mempertahankan kehormatan yang dibunuh oleh keluarganya sendiri.

Sebelumnya, Sharmeen menang Oscar untuk film HBO "Saving Face". "Inilah yang terjadi ketika dua perempuan yang punya tekad bersatu," kata Sharmeen sambil memamerkan pialanya.


Filmmaker yang juga jurnalis berusia 37 tahun itu mendedikasikan pialanya untuk para pria berani, seperti ayah dan suaminya, yang mendukung para wanita untuk sekolah dan bekerja. Sharmeen juga senang film ini memiliki efek langsung di Pakistan.
"Minggu lalu Perdana Menteri Pakistan mengatakan bahwa dia akan mengubah undang-undang untuk menghormati korban setelah menonton film ini. Itulah kekuatan film," katanya lagi.
Setelah ini Sharmeen akan mencoba bidang lain di luar dokumenter. "Aku akan mengerjakan film animasi, karena akan terasa lebih tenang dibanding film dokumenter," katanya.
Selain Sharmeen, filmmaker yang menang Oscar dari kategori dokumenter adalah Asif Kapadia and James Gay-Rees lewat film 'Amy'. Mereka berhasil unggul dari para nominator lainnya, termasuk film 'Senyap' di kategori Best Documentary (Feature).


Menurut sang sutradara, film 'Amy' mencoba untuk menampilkan sisi lain dari hidup Amy Winehouse. Selama ini penyanyi Inggris itu lebih dikenal sebagai sosok kontroversial di media. Tapi menurutnya, Amy jauh lebih baik dari itu.

"Film ini ingin menunjukkan kepada dunia siapa dia sebenarnya, bukan pesona di tabloid, wanita yang cantik, jiwa yang luar biasa, lucu, cerdas, seseorang yang spesial," kata Asif ditemui di tempat yang sama.
(ich/kak)