celeb
Pemain 'Game of Thrones' Komentari Jokowi, Sinead O'Connor Mualaf
Sabtu, 27 Okt 2018 07:14 WIB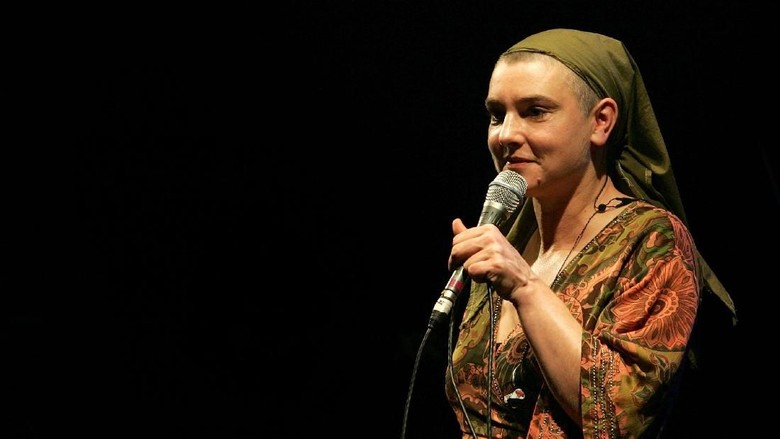 Foto: Paul Kane/Getty Images
Jakarta
- Pemain 'Game of Thrones' menanggapi kalimat "Winter is Coming" yang diucapkan Joko Widodo di pidatonya. Ada juga kabar dari Sinead O'Connor yang jadi mualaf.
Berikut adalah 5 berita terpopuler pada Jumat (26/10/2018).
1. Jokowi Sebut Winter is Coming, Ini Kata Pemain 'Game of Thrones'
Dalam pidatonya di Pertemuan Tahunan IMF-Bank Dunia 2018, Presiden Republik Indonesia Joko Widodo menyebutkan kalimat "winter is coming" yang merupakan salah satu anekdot dari serial 'Game of Thrones'.
Pada gelaran Indonesia Comic Con 2018, Kristian Nairn yang berperan sebagai Hodor dalam seri tersebut menanggapi hal itu.
"Mengenai presiden kalian yang mengatakan 'winter is coming', kami sebenarnya benar-benar terkejut," kata Nairn kepada detikHOT di The Sulthan, Senayan, Jumat (26/10/2018).
Ia mengaku tak menyangka bahwa Game of Thrones akan menjadi sebesar dan seterkenal sekarang.
2. Keluarga Kardashian Kepergok di Bali, Sedang Apa?
Keluarga Kardashian memang dikenal kerap bepergian ke luar negeri. Namun kali ini, mereka kepergok sedang di Bali.
Dilihat di akun gosip Instagram, tampak Khloe, Kourtney, dan Kim Kardashian tengah berada di salah satu lokasi seperti di Desa Tampaksiring di Bali. Khloe tampak mengenakan busana serba putih sementara dua kakaknya tampil serba hitam.
Tak diketahui dengan pasti apa maksud kunjungan mereka ke Bali. Namun, terlihat beberapa kru bersama Kim, Khloe, dan Kourtney membawa kamera di sekeliling mereka.
Tampaknya, liburan keluarga Kardashian ke Bali akan ditampilkan dalam acara 'Keeping Up with the Kardashians'.
3. Megadeth Lelang 2 Gitar Untuk Sumbang Korban Gempa Sulteng
Grup band cadas asal Los Angeles Amerika Serikat, Megadeth ternyata tidak hanya akan tampil di International Rock Music Festival: JogjaROCKarta #2 2018 di Stadion Kridosono Yogyakarta, Sabtu (26/10/2018).
Legenda band yang mengusung aliran Thrash Metal itu juga bakal melelang 2 gitar yang hasilnya akan disumbangkan kepada warga terdampak gempa dan tsunami di Sulawesi Tengah.
Dua buah gitar yang akan dilelang lengkap dibubuhi tanda tangan keempat personel Megadeth. Saat jumpa pers jelang JogjaROCKarta #2 di Hyatt Regency Sleman, 2 buah gitar itu sempat dihadirkan di depan awak media.
4. Arumi Bachsin Berduka, Sang Ayah Meninggal Dunia
Kabar duka datang dari keluarga Arumi Bachsin. Ayah Arumi, Rudy Bachsin meninggal dunia pada Jumat (26/10) pagi.
Kabag Protokol dan Rumah Tangga Pemkab Trenggalek, Triadi Atmono, membenarkan kabar tersebut. Saat ini Arumi beserta suaminya Bupati Trenggalek, Emil Elestianto Dardak bertolak ke Jakarta.
"Kami dapat kabar dari ajudan pagi tadi, Pak Rudy meninggal dunia di kediamannya Perumahan Kalibata Indah sekitar jam 04.00 WIB," kata Triadi, Jumat (26/10/2018).
5. Pakai Hijab, Sinead O'Connor Umumkan Masuk Islam
Sinead O'Connor mengalami perubahan yang cukup signifikan. Beberapa waktu lalu, ia mengunggah foto diri mengenakan hijab.
Melalui akun Twitter-nya, pelantun hits 'Nothing Compares 2 U' itu mengaku sudah mengubah keyakinannya dan masuk Islam.
"Di sini aku mengumumkan dengan bangga sudah menjadi muslim. Ini adalah sebuah kesimpulan alami dari perjalanan seorang teolog yang cerdas. Semua kitab mengarah ke Islam," tulisnya pada caption foto.
(dar/nu2)