book
Penulis 'Game of Thrones' Buka Toko Buku di Kampung Halamannya
Kamis, 26 Des 2019 09:31 WIB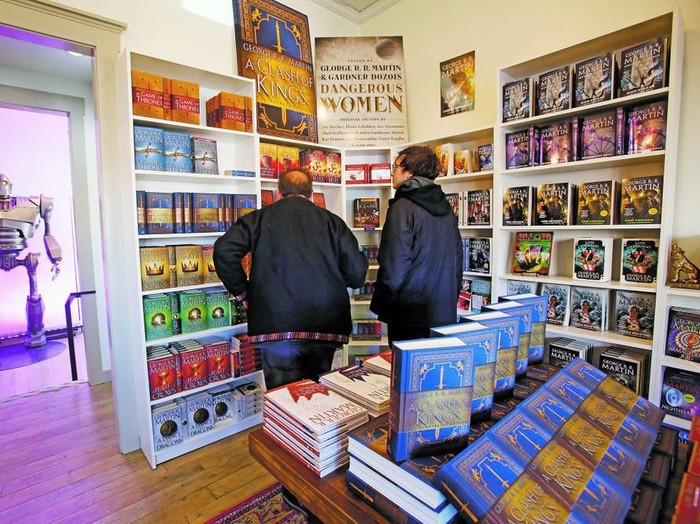 Foto: Istimewa
Jakarta
- Kesuksesan serial televisi dan novel
'Game of Thrones'
membawa nama
George RR Martin
melambung tinggi. Jelang perayaan Natal kemarin, sang novelis meresmikan toko buku di kampung halamannya di Santa Fe, New Mexico.
Toko yang bernama Beastly Books awalnya dibuka bulan lalu di Santa Fe, lokasinya bersebelahan dengan bioskop. Toko itu menjual beragam buku sampai barang dagangan 'Game of Thrones'.
George RR Martin mengatakan ia akhirnya membuka toko buku karena lobi bioskop tersebut tidak memadai memajang buku-buku dagangannya.
"Lokasinya terlalu kecil untuk saya menjual buku-buku para penulis," tulis George RR Martin, dilansir dari AP, Kamis (26/12/2019).
Pada Juni lalu, George RR Martin juga bergabung dengan kelompok seni berbasis di New Mexico yang dikenal sebagai Meow Wolf. Dia juga merencanakan akan membangun ruang instalasi bagi karya-karya kenamaannya 'Game of Thrones' di toko buku tersebut.
Simak Video "

Nama Anak Sophie Turner-Joe Jonas Diambil dari Karakter 'GOT'

"
[Gambas:Video 20detik]
(tia/doc)