book
Kontroversi Final 'Game of Thrones' Diwarnai Kabar Cetak Ulang Novelnya
Senin, 20 Mei 2019 11:00 WIB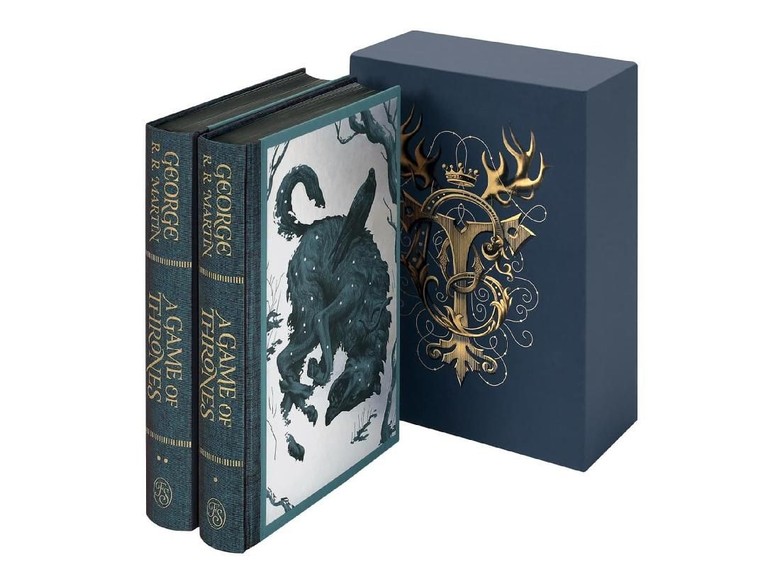 Kontroversi Final 'Game of Thrones' Diwarnai Kabar Cetak Ulang Novelnya Foto: EW/ Istimewa
Jakarta
- Mencapai edisi final dari musim kedelapan
'Game of Thrones'
sepanjang 10 tahun tentunya tak mudah. Namun bagi pembaca setia karya
George RR Martin
, seri novelnya 'A Song of Fire and Ice' dikabarkan cetak ulang.
Penerbit Folio Society mengungkapkan bocoran dari kabar cetak ulang lima novel tersebut. Novel-novel fantasi tersebut akan terbit pada 16 Juli mendatang.
Sampul di novel cetakan terbuka diwarnai oleh karya seni yang mengagumkan. Di salah satu sampul ada seekor gagak yang bertengger di atas mayat seorang ibu direwolf.
Sampul lainnya menggambarkan singa, sigil dari House of Lannister dan sigil dari House of Baratheon. Bagi pembaca novel dan penggemar serial televisi 'Game of Thrones' pastinya mengetahui tentang simbol-simbol tersebut.
"Edisi baru terbitan Folio Society yang luar biasa adalah karya seni agung, ilustrasinya dibuat oleh Jonathan Burton," ujar George RR Martin, dilansir dari EW, Senin (20/5/2019).
Video: Cacimaki untuk #TheFinalEpisode Game of Thrones
"Para kolektor dan penggemar novel fantasi akan menyukai terbitan terbaru ini," lanjutnya.
Di dalam cetakan terbaru tersebut juga ada peta lipat 'Dunia yang Dikenal' yang terbit bersamaan di dalam edisi eksklusif.
(tia/nkn)