behind-the-scene
Joko Anwar Buka Dapur Produksi Film 'A Copy of My Mind'
Senin, 16 Nov 2015 18:17 WIB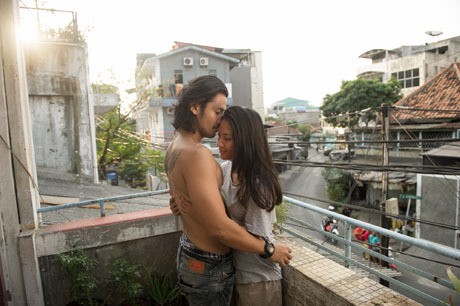 Jakarta
- Kreativitas memang selalu berhasil menembus segala keterbatasan. Termasuk hadangan keterbatasan ekonomi. Contoh nyatanya adalah film debut rumah produksi Lo-Fi Flicks, 'A Copy of My Mind'.
Film yang sutradarai Joko Anwar itu ternyata cukup mengalami kesulitan finansial meskipun ide ceritanya sudah dihargai sekitar Rp 150 juta oleh Asian Project Market dari Busan International Film Festival 2014.
"Ayo kita buka-bukaan dapur nih. Jadi, dapat dari Busan itu sekitar Rp 150 juta dan itu nggak cukup. Terus ditambahin sama dua orang lain, Rp 50 juta, Rp 50 juta yang kemudian mereka berdua (Tia Hasibuan dan Uwie Balfas) jadi produser filmnya" cerita Joko Anwar dalam jumpa pers di XXI Plaza Indonesia, Jakarta Pusat, Senin (16/11/2015).
"Terus itu kita dipinjamkan kamera dari Timeless Rentals. Untuk lighting, karena kita nggak pakai lighting jadi dipinjamkan langsung dari Allah SWT. Grading-nya gratis dari Prodigy. Musiknya dibantu sama Rooftop Sounds, gratis nggak dibayar," sambung sutradara yang sebelumnya menggarap 'Modus Anomali' itu.
Tak hanya teknis, bahkan dari segi pemain pun ada bantuan yang datang tak terduga dari Ario Bayu.
"Awalnya ada satu pemain yang kita sudah di-submit gambar. Tapi pas datang ke casting, kok nggak sesuai. Suatu hari kita syuting, tiba-tiba Ario Bayu mampir bawa minuman, kita semua langsung ngeliatin dia terus nanya, 'lo minggu ini sibuk nggak, Bay?'," ujar Joko dan percakapan itu berlangsung pada terlibatnya Ario Bayu di 'A Copy of My Mind'.
Film drama romantis itu dibintangi oleh Tara Basro dan Chicco Jerikho. Menceritakan tentang sepasang kekasih bernama Sari dan Alex yang mengarungi lautan cinta sederhana sebagai penghuni lapisan bawah kelas masyarakat Jakarta.
Sampai tiba-tiba romansa mereka terganggu oleh ketidaksengajaan menemukan rekaman korupsi calon presiden. Sari yang hanya karyawan salon dan Alex seorang penerjemah film bajakan kalang kabut. Dijadwalkan 'A Copy of My Mind' tayang Februari 2016. ‎
(mif/ich)