art
Jokowi Sebut Winter is Coming, Ini Kata Pemain 'Game of Thrones'
Jumat, 26 Okt 2018 15:38 WIB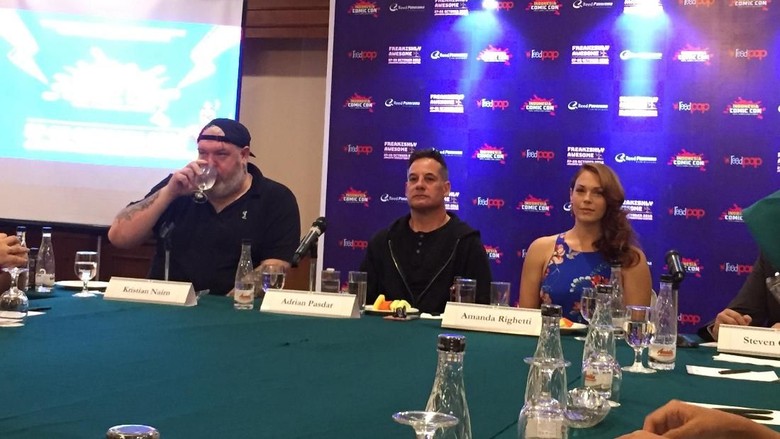 Jumpa Pers Comic Con 2018 Foto: Dyah Paramita Saraswati
Jakarta
- Dalam pidatonya di Pertemuan Tahunan IMF-Bank Dunia 2018, Presiden Republik Indonesia
Joko Widodo
menyebutkan kalimat "winter is coming" yang merupakan salah satu anekdot dari serial '
Game of Thrones
'.
Pada gelaran Indonesia Comic Con 2018, Kristian Nairn yang berperan sebagai Hodor dalam seri tersebut menanggapi hal itu.
"Mengenai presiden kalian yang mengatakan 'winter is coming', kami sebenarnya benar-benar terkejut," kata Nairn kepada detikHOT di The Sulthan, Senayan, Jumat (26/10/2018).
Ia mengaku tak menyangka bahwa Game of Thrones akan menjadi sebesar dan seterkenal sekarang.
"Aku ingat pertama kali aku datang ke studio, aku tidak berekspektasi bahwa seri Game of Thrones akan jadi sebesar ini," terangnya.
"Ini sungguh terasa baik, ini menjadi sebesar ini," sambungnya.
Game of Thrones merupakan salah satu seri yang tayang di HBO. Sedangkan yang dimaksud oleh 'winter is coming' adalah kalimat yang dilontarkan Jon Snow.
Yang dimaksud Jokowi adalah ia mengandaikan kondisi ekonomi dengan seri tersebut.
Tonton video: Suka Duka Pemeran Hodor Selama Syuting 'Game of Thrones'
(srs/dar)