art
'Harry Potter and the Cursed Child' Masuk Nominasi WhatsOnStage Inggris
Kamis, 28 Des 2017 15:25 WIB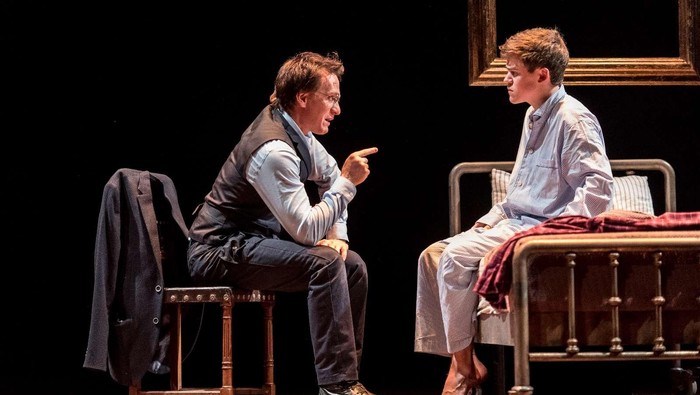 'Harry Potter and the Cursed Child' Masuk Nominasi WhatsOnStage Inggris Foto: Manuel Harlan
Jakarta
- Kesuksesan pertunjukan teater 'Harry Potter and the Cursed Child' membuat namanya merajai panggung Inggris. Kali ini pentas yang dibuka sejak Juli 2016 di London itu masuk nominasi ajang penghargaan WhatsOnStage.
Penghargaan WhatsOnStage diberikan pada pelaku industri teater di Inggris. Memasuki penjurian khusus untuk tahun 2018, voting telah dibuka sejak 1 Desember dan bakal berakhir 31 Januari 2018 mendatang.
Informasi mengenai nominasi 'The Cursed Child' diumumkan lewat akun Twitter resmi mereka.
"#CursedChild has been nominated for Best West End Show (and Best Show Poster!) at the #WOSAwards. Voting is open: https://awards.whatsonstage.com," tulis @HPPlayLDN seperti dikutip detikHOT, Kamis (28/12/2017).
Dua nominasi (Best West End Show dan Best Show Poster) yang didapatkan 'The Cursed Child' bukan sembarang nominasi saja. Ditulis oleh Jack Thorne, 'Harry Potter and the Cursed Child' adalah cerita ke-8 serial Harry Potter. Kisah Harry Potter Cs yang diadaptasi ke panggung teater ini menyatukan beberapa bakat yang paling menarik di dunia teater internasional.
Produksi ini memenangkan 22 penghargaan teater di Inggris sejak dibuka pada Juli 2016 di London. Pemutaran perdananya di Broadway Amerika Serikat bakal berlangsung pada April 2018.
Voting berlangsung di situs ini https://awards.whatsonstage.com/. Pengumuman pemenang akan diumumkan pada 25 Februari mendatang.
#CursedChild has been nominated for Best West End Show (and Best Show Poster!) at the #WOSAwards. Voting is open: https://t.co/839uSHeKXo pic.twitter.com/THRMnO3cwm

— Cursed Child Play (@HPPlayLDN) 1 Desember 2017
(tia/tia)