music
Gitaris Audioslave dan Anthrax Cicipi Fender 'Game of Thrones'
Selasa, 21 Mei 2019 17:42 WIB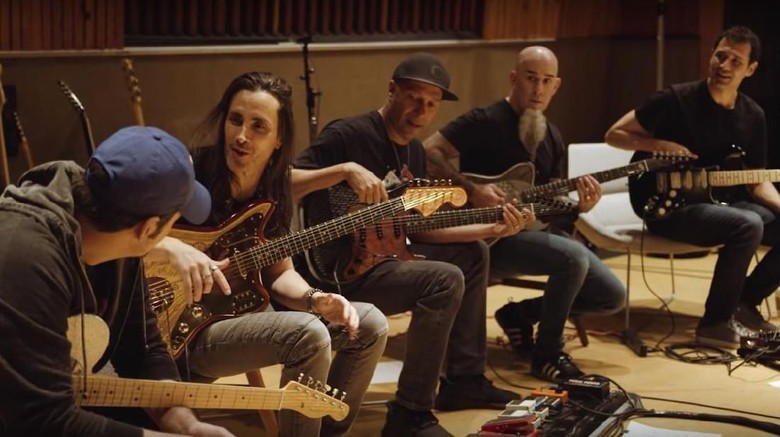 Musisi Cicipi Gitar Fender Edisi Game of Thrones Foto: Fender
Jakarta
- Masuk di musim terakhirnya, '
Game of Thrones
' begitu digilai banyak orang. Begitu juga dengan para gitaris top berikut ini yang mencicipi gitar edisi serial itu.
Fender membuat tiga gitar handcraft. Gitar-gitar tersebut begitu mewakili keluarga besar dari 'Game of Thrones', yaitu Stark, Lannister dan Targaryen.
Stark diwakili dengan gitar legendaris, Telecaster. Targaryen ada di gitar Stratocaster. Sedangkan Lannister digambarkan oleh Jaguar karena gitar tersebut dinilai paling centil dengan pernak-perniknya.
Para musisi pun diberi kesempatan mencicipi gitar-gitar tersebut, seperti Tom Morello dari Audioslave dan Rage Againts The Macgine, Scott Ian dari Anthrax, Nuno Bettencourt dari Extreme dan Brad Paisley.
Mereka mencoba gitar tersebut dengan memainkan lagu tema dari serial itu. Bersama mereka ada juga Rami Djawadi, Komposer 'Game of Thrones' serta Dan Weiss, Creator & Showrun 'Game of Thrones'.
Di awal video, mereka menyamakan nada terlebih dahulu. Baru setelah itu, para musisi memainkan gitar-gitar tersebut dan nge-lead secara bergantian.
Justin Norvell, Wakil Eksekutif Presiden Fender Guitars, mengungkapkan pihaknya memang serius dalam kerja sama ini. Gitar eksklusif tersebut dinilai cocok untuk bergabung dalam antusias 'Game of Thrones' yang begitu tinggi.
"Kita bekerjasama langsung dengan D.B. Weiss-creator GoT dan juga seorang pemain gitar yang hebat-untuk memastikan visi, desain, dan materi yang dikejar tersampaikan dengan baik dan mewakili tiap keluarga yang dijadikan inspirasi," katanya.
Norvell juga berharap Fender bisa menjadi pilihan gitar bagi para penggemar serial tersebut.
"Sebagai fans dari serial ini, kita bangga dengan hasil akhir yang muncul dari ketiga gitar custom tersebut," tutupnya.
(dar/nu2)