music-box
Kings of Convenience Konser Jakarta-Bandung, Maret 2010
Jumat, 08 Jan 2010 15:31 WIB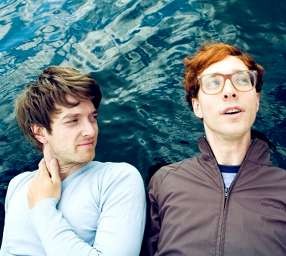 Jakarta
- Tiga tahun silam band Kings of Convenience, sempat mengguncang ibukota. Kini mereka akan kembali. Tak hanya di Jakarta, tapi juga di Bandung pada Maret 2010 mendatang.
Adalah promotor Soundshine Mega Concerta yang akan membawa band asal Norwegia itu konser pada 27-28 Maret 2010 mendatang. Dipastikan konser band yang digawangi Erlend Oye dan Eirik Glambek Boe itu akan berbeda dari sebelumnya.
"Konser ini rada lain sama yang kemarin. Karena anggotanya lebih banyak nggak cuma berdua. Nggak cuma full band juga, mereka banyak bawa alat tiup," ujar Hanin, direktur Soundshine Mega Concerta kepada
detikhot
via ponselnya, Jumat (8/1/2010).
Kedatangan mereka kali ini sekaligus promo album ketiganya, 'Declaration of Dependence'. Bukan hanya di Jakarta, pelantun
hits
'Cayman Island' itu sendiri yang minta dibuatkan konser di Bandung.
"Memang dia yang mau di Bandung," jelas Hanin.
Sebelumnya, Erlend Oye juga pernah menggelar konser di Jakarta dan Bandung bersama band selingkuhannya, Whitest Boy Alive. Rencananya konser di Jakarta kali ini akan berlangsung di Upper Room, Hotel Nikko sementara di Bandung akan berlangsung di Sabuga. Untuk tiket berkisar antara Rp 200-400 ribu. Penyanyi asal Swedia, Jens Lekman, akan jadi pembuka.
(yla/yla)