movie
Ingin Main di 'Fantastic Beasts', Macaulay Culkin Minta ke J.K Rowling
Minggu, 30 Sep 2018 17:55 WIB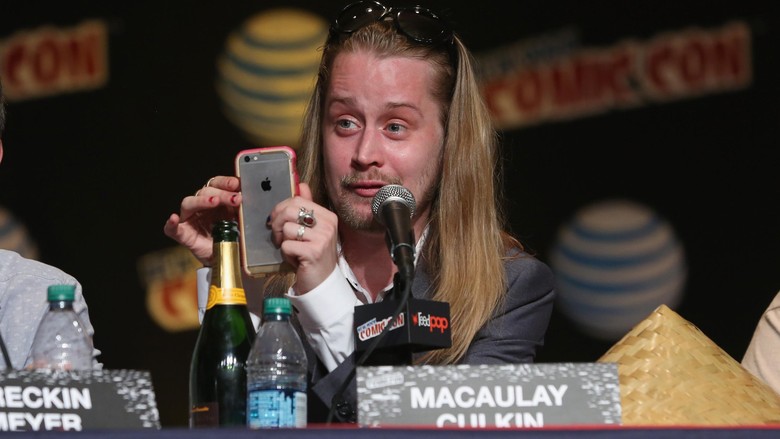 Ingin Main di 'Fantastic Beasts', Macaulay Culkin Minta ke J.K Rowling Foto: Cindy Ord
Jakarta
- Macaulay Culkin menjadi salah satu aktor yang juga tertarik dalam kisah fantasi '
Fantastic Beasts'
. Belum lama ini ia mengungkapkannya langsung pada sang kreator J.K Rowling.
Di tengah gempuran kekecewaan netizen karena sosok Nagini yang terungkap diperankan oleh bintang asal Asia, Claudia Kim, Culkin mengungkapkan dukungannya pada sang penulis. Serta meminta kesempatan untuk menjadi salah satu aktor di cerita film ini.
"Hey @jk_rowling aku mendukungmu! Nagini dapat menjadi siapa saja yang ia inginkan. Dia adalah sosok wanita dan ular yang kuat. Dan apakah kau bisa mencatatku untuk peran di film berikutnya?," tanya aktor 38 tahun ini melalui lini Twitter.
Culkin agaknya ingin sekali bisa terlibat dalam proyek 'Fantastic Beasts' yang direncanakan akan dibuat dalam trilogi.
"Aku adalah Macaulay Culkin dari film 'Home Alone'," tuturnya lagi.
Netizen yang mengikuti lini twitter ini tak sedikit yang mendukung Culkin. Mereka pun mempromosikan Culkin pada J.K Rowling.
"Aku rasa dia dapat memerankan salah satu sosok dari klan Malfoy," tutur seorang netizen. J.K Rowling sendiri belum memberikan tanggapan atas permintaan Culkin hingga saat ini.
'Fantastic Beasts 2: The Crimes of Grindelwald' rilis 16 November mendatang.
(doc/tia)